August 01, 2018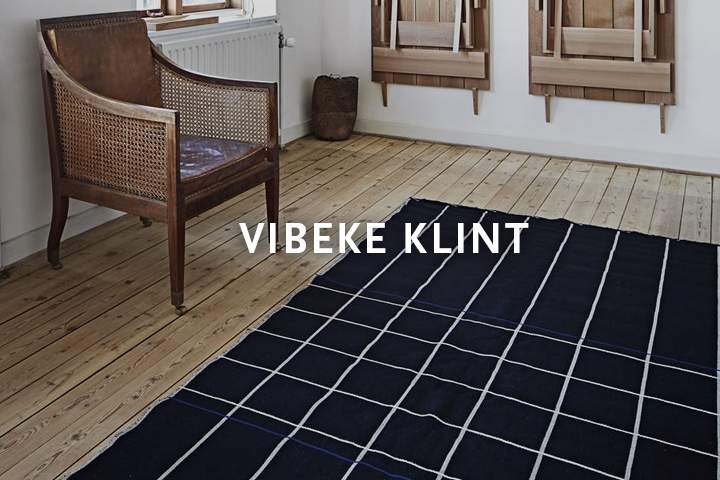 Vibeke Klint's rug in her son Peter Klint's home. Source: Bobedre, www.bobedre.dk
Portrait of Vibeke Klint. Photo by Rigmor Mydtskov.
Vibeke Klint is a Danish textile artist born on December 13, 1927. She is famously known for her wide variety of tapestries, carpets, silks and home textiles. Her designs were all initially inspired by functionalism, and often featured geometric motifs.
FJ Hakimian carpet #22149, "Lynild" design by Vibeke Klint, Denmark 1950, 10'8" x 10'2".
Vibeke Klint's career as a textile artist began with her close relationship to her father, Gunnar L.C Nielson. Living in Årbus with her mother and siblings, the pair would attend exhibitions and venture to museums together. Klint's father was the catalyst of her passion for art. At 19 years of age, Klint was admitted to the School of Arts and Crafts, where she attended the weaving line under the guidance of Gerda Henning. During her years at the School of the Arts and Crafts, Klint was introduced to a completely different world. From her normal bourgeois background, she was confronted with the genuine art of living, and an active and inspiring way of life. She grew close to Gerda Henning, who had an untraditional way in her teachings. She always told her students, "Now you have to plow your way through this thick book on binding techniques, just to find out that the simplest way is the most beautiful".
FJ Hakimian carpet #22148, "Lynild" design by Vibeke Klint, Denmark 1950, 14'2" x 10'1".
In 1949, Vibeke graduated from the School of Arts and Craft and was employed at Karen Warming's workshop. Shortly after her employment, Klint realized she was not applying her skills in the appropriate environment, and accepted Gerda Henning's great offer to assist her in creating tapestry samples for the Parliamentary Hall at Christiansborg. From there, Klint studied at the school in Aubousson with Jean Lurcat in St. Cere, and with Pierre Wemaere in Brittanny.
1987 Flatwoven Norwegian Spellsau Wool by Vibeke Klint, 297cm x 337cm. Source: Vibeke Klint, The Weaver by Inge Alifrangis, page 134.
After the death of Gerda Henning, Klint was offered to take over her workshop back in Denmark at once. In spite of all the natural worries and reservations of continuing Henning's legacy, Klint accepted the offer and set to work full of optimism and excitement. After her marriage with Morten Klint, she continued Henning's footsteps in cultivating contacts with architects. This lead to a project with Professor Mogens Koch, and together they created rugs for the Danish Church in London for Skt. Jørgensberg Church in Roskilde, and for the Holbæk Church. Gradually, Kilnt took over the entire process from sketching ideas, to physically completing the finished product.
Watercolor textile designs for rugs. Source: Vibeke Klint, The Weaver by Inge Alifrangis, page 23.
Every person who has trained at Vibeke Klint's workshop felt strongly affected by her great personality. Her choice of bold colors and unremitting persistency in choice of pattern have left positive marks on her pupils. This positive attitude Klint represents formed a school in her workshop, and is carried with her wherever she travels. With clarity and high quality expressed through her artistic sensitivity, Vibeke Klint stands as an exponent for Danish design at its best.
1996 rug in warp repp. English wool and horsehair, 300cm x 340cm. Source: Vibeke Klint, The Weaver by Inge Alifrangis, page 45.
Vibeke Klint exhibited her first solo show in Årbus 1965. It was reviewed greatly in newspapers as the first solo exhibition of a textile artist, but did not attract many people. In the biggest carpet exhibition in Copenhagen 1966, Klint had more success and drew a greater audience. In 1972, Klint also exhibited at the Danish Museum of Decorative Art, then exhibited in the library in Lyngby in 1979. Other memorable exhibitions include a solo show at the Paustian house designed by Jørn Utzon in 1987, an exhibition at the Hjorring Art Museum in 1988, and a birthday exhibition celebrating her 70th birthday at the Danish Museum of Decorative Art in 1998. Klint has also exhibited alongside weavers and designers, and her work can also be seen at the National Museum of Women in the Arts in Washington D.C.
Vibeke Klint's rug in her son Peter Klint's home. Chair, painting and window shade by Kaare Klint, Vibeke's father in law. Folding tables by Peter Klint.  Source: Bobedre, www.bobedre.dk
For more of our vintage Scandinavian carpets, visit our collection here.