May 05, 2020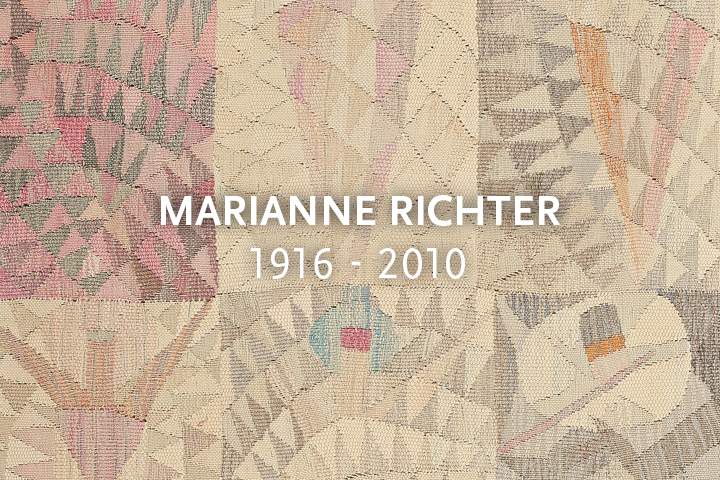 Born in 1916 in Helsingborg, Sweden, Marianne Elisabet Richter was one of six children of a merchant and homemaker, and she found her calling early. She was discovered as a young student and first worked for the Swedish handicraft association in Växjö in her late teens, where she experimented with clay and other media. 
In 1937, Richter began work for Märta Måås-Fjetterström in Båstad (called "the weavers' temple" by Swedes) as a summer job, where she worked on drawings and watercolor paintings; this was the beginning of a long a storied career in the arts. Five years later, she was hired by the studio as a designer and became noted as one of the workshop's most important leaders, highly skilled at hand-weaving at a time when machine-made rugs were on the rise. There, she mastered many innovative weaving techniques and produced a number of Swedish flatweaves, pile rugs, tapestries, and longer pile rugs known in Swedish as rya. Richter held this role until the 1970s, sketching rugs and other textiles while simultaneously working as a teacher at Konstfack, a prestigious arts and design university in Sweden. During these tenures, she also designed patterns and fabrics for other fashion and textile houses in Sweden. 
"KORSVIRKE, BRUN" Swedish Flat Weave Rug #02829. Sweden ca. 1972. 7'11" x 5'5" (241 x 165 cm)
"BLUE FOREST" Swedish Pile Rug #03245. Sweden ca. 1954. 18'5" x 12'1" (561 x 368 cm)
During the post-WWII period, Sweden was advancing and the population was looking to leave behind the dark and clunky furnishings of years past. Marianne Richter witnessed the demands of the public and began creating cheerful designs for the masses. These pieces broke tradition and provided a fresh take that appealed to a hopeful nation; Richter's rugs ended up in the homes of thousands of Swedes, and were even exported around the world to the Far East, Europe, and the United States.
Swedish Pile Rug #03313. Sweden ca. 1955. 9'3" x 6'9" (282 x 206 cm)
Swedish Flat Weave Rug #22059. Sweden ca. 1945. 10'7" x 10'0" (323 x 305 cm)
By midcentury, other textile makers like Ingrid Dessau and Berit Koenig were implementing design choices in the style of Richter; her contemporaries saw the value and recognized the public interest in the happy, graphic designs, which at the time were exceedingly original and nuanced. Richter became known chiefly for her use of vibrant, unexpected colors with beautifully interlaced geometric elements with strong textures; she expressed optimism and joy through her bold designs. Then-unique materials like jute, hemp, and paper cord were incorporated into her work, and she mastered the use of high-quality yarns and the variation of yarn weights within a single piece for a more dynamic effect. 
"KARNEVAL" Swedish Wall Hanging #22259. Sweden ca. 1961. 3'11" x 3'0" (119 x 91 cm)
"THE WALL, IN BEIGE" Swedish Flat Weave Rug #02825. Sweden ca. 1971. 9'10" x 6'5" (300 x 196 cm)
Over the course of her career, Richter was commissioned to create many important works, including tapestries and rugs that would hang in the United Nations in New York, the Swedish embassies in Argentina and Brazil respectively, and for the Swedish legation in Tehran, Iran. Later, Richter's work became common in high-end offices, hotels, and private residences around the world.
Marianne Richter died in 2010 in Mölle, Sweden, and left a great legacy behind among other nordic designers, with her highest-valued work, the Korsordet, selling for nearly $100,000 USD at Phillips London in 2014. Her pieces have been exhibited at shows worldwide; those available in the FJ Hakimian Collection comprise some of Marianne Richter's most coveted work.
Swedish Flat Weave Rug #02716. Sweden ca. 1945. 7'1" x 4'7" (216 x 140 cm)
Swedish Wall Hanging #22154. 6'3" x 4'1" (191 x 124 cm)