July 31, 2018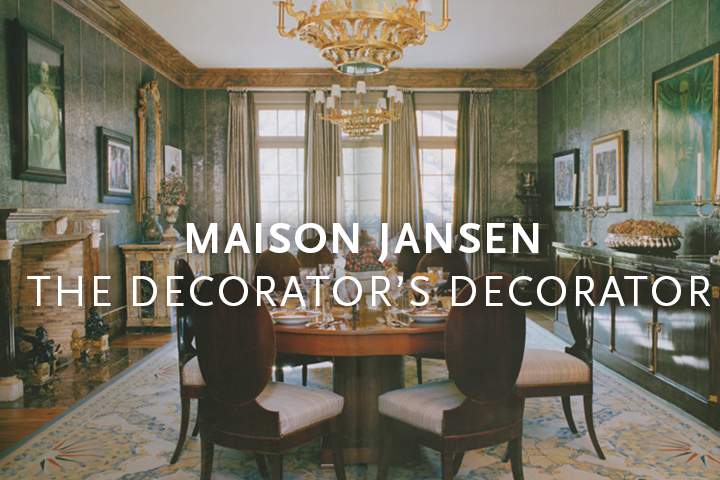 Dining room with FJ Hakimian Aubusson rug attributed to Maison Jansen, located in an Edwin Lutyens style Long Island estate. Room designed by Stephen Sills (AD100). Source: Stephen Sills Decoration page 160-161.
At the culmination of Belle Epoque splendour, the 1900 Paris Exposition Universelle was a fabulous showcase for dazzling creations, many of them designed by immigrants. One of them was Dutchman Jean-Henri Jansen, whose furniture store with its famously lavish window displays had opened on the Rue Royale in 1880, offering antiques and furniture of his own production. The spectacular Art Nouveau writing desk the firm presented at the exhibition is considered one of the supreme examples of the period.
By 1900, Maison Jansen was no longer a store but a rapidly expanding design firm specializing in tasteful grandeur with a clientele of the world's wealthy and powerful. His furniture was heralded as some of the finest in Europe and his remodelling of the Palace of Laeken at for King Leopold II of Belgium was the talk of the town.
FJ Hakimian Aubusson, attributed to Maison Jansen. #02693 France, 1920 18'5" x 12'6".
In 1923 Jansen was joined by Stéphane Boudin, the son of Jansen's supplier of tassels and trim. Boudin would soon become one of the era's most celebrated decorators, enhancing Jansen's reputation for historically researched chic interiors still further. Maison Jansen offices opened in New York, Buenos Aires, Rio de Janeiro, Cairo and Havana gaining commissions that elegantly merged 'tous les Louis' style with 18th-century Bourbon Court, the Aesthetic Movement, Art Nouveau, Art Moderne, and eventually Mid-Century Modernism.
By the 1930s most of Boudin's work was in England, where he was "the greatest decorator in the world," according to Sir Henry 'Chips' Channon, an American millionaire socialite who had become part of the English political establishment. For him Boudin designed an extraordinary rococo fantasy room inspired by the pale-blue-and-silver Amalienburg Pavilion of the Nymphenburg Palace, near Munich. A mirrored table with thirty rococo chairs and side tables inspired by furniture from the Hotel Parr cost Channon six thousand pounds – approximately half a million dollars today. A tented pavilion he designed for interior designer Elsie de Wolfe's party earned him the sobriquet of "decorator's decorator." Maison Jansen became the decorator of choice for the British aristocracy.
White House Blue Room as designed by Stéphane Boudin from  Maison Jansen in 1962, featuring French Empire style furniture.
Elsie de Wolfe's party tent at Villa Trianon by Jansen decorator Stéphane Boudin at the 1938 Circus Ball in Paris, France.
During the fifties and sixties in the USA Maison Jansen received commissions for the Paleys, C. Z. Guest, H. J. Heinz and oil magnate Charles Bierer Wrightsman. But Boudin's involvement in the early 1960s redecoration of a number of rooms at the White House, working closely with Jacqueline Kennedy, put Maison Jansen in the public eye, with arrangements emphasizing the crucial role that French taste had played in White House interiors since Jefferson's day.
FJ Hakimian Aubusson rug designed by Stéphane Boudin of Maison Jansen. #02567 14'8" x 1'6" Circa: France 1950
Maison Jansen's Rue 9 Headquarters, 1970. Source: Pamono, Image by Acanthus Press.
Stéphane Boudin was succeeded, after his death in 1967, by  collaborator and colleague Pierre Delbée. Delbée, whose residence in Paris was the pinnacle of the luxurious Jansen aesthetic, continued to represent the firm until 1979 when the company changed hands, finally closing its doors in 1989, after furnishing many of the world's finest rooms for over a century. But Jerry and Margie Perenchio, keen for a Maison Hansen aesthetic, pulled the famous French designer Henri Samuel (1904-1996) out of retirement to have him design the interior of their Bel Air house.
18th Century Axminster (Adam Brothers). Interior design by the late Henri Samuel, design attributed to Maison Jansen after the firm closed its doors, after Samuel's retirement. Bel Air, Los Angeles, CA. Source: 875 Nimes. Perenchio, Jerry & Margie. Published by NP, Bel-Air, 1995. Page 47.
Samuel had worked for Stéphane Boudin at Maison Jansen in 1925 at the age of 21, after leaving his Wall Street apprenticeship. From  there he moved on to Ramsay and other design houses, managing Alvoine before starting his own firm. Known for his expertise on mixing styles, Samuel's trademark aesthetic included quilted upholstered chairs, mounds of cushions and rare ornaments to convey intimacy in historically styled room, believing that a design is only successful if nobody suspects a decorator was involved. Samuel's extravagant yet humbly welcoming designs were a fitting tribute to Maison Jansen, arguable the world's first interior design firm.
Dining room with FJ Hakimian Aubusson rug attributed to Maison Jansen, located in an Edwin Lutyens style Long Island estate. Room designed by Stephen Sills (AD100). Source: Stephen Sills Decoration page 160-161.