April 08, 2020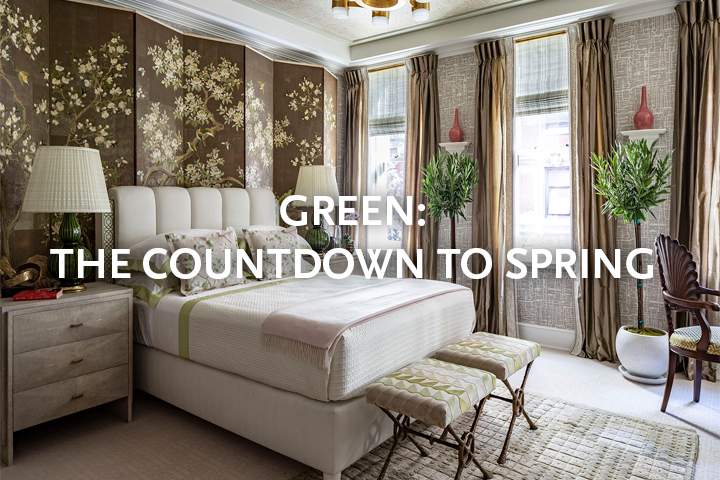 Bedroom design by Brian del Toro at Kips Bay Decorator Show House 2018. Photo by Marco Ricca. Rug featured by FJ Hakimian, Swedish Pile Rug #03435 by Kerstin Butler and Kristianstads Läns Hemslöjd.
With a new decade upon us and spring not too far away, there is something about the color green that seems particularly of the current moment right now. The color is something of an antidote to the modern world—even, you might say, a new way of life  in the twenty-first century—and a green rug can add a balancing and transformative  element to an environment. A carpet in green tones can help create an interior that is paradoxically both calming and full of energy. 
Swedish Pile Rug #03325. 12'0" x 9'2" (366 x 279 cm)
Poets have celebrated green for centuries as the color of life, a radiant source of pleasure and revival. Looking through our collection, we have found many historical examples of carpets from when green seemed as fresh as today, particularly in twentieth-century Scandinavian weavings. From Ingrid Hellman-Knafve's carpets woven with inspiration from her home in rural Sweden, to Marianne Richter's brilliant color combinations, Brita Grahn's textile experiments, Edna Martin's philosophical designs, and Sigvard Bernadotte's sophisticated weavings, mid-century Scandinavian designers seem to be especially masterful when working with green. 
Swedish Pile Rug #03251. 6'11" x 4'8" (211 x 142 cm)
Swedish Flat Weave Rug #02954. 23'11" x 17'6" (729 x 533 cm)
Looking at green historically, it is appropriate that many of our most wonderful green carpets are Scandinavian. During the ancient and medieval periods, the color green was associated with the Vikings. In the north, where natural resources for pigments were scant, cloth could be dyed green with local plants like fern, nettle, foxglove, and the leaves of birch trees. According to ancient sources, Scandinavian Vikings were known in the Mediterranean world to dress in green clothing. It is fascinating that even in the twentieth century, Scandinavian textile artists were thought to be particularly skilled at designing weavings in shades of green. Finally, of course, there are those long monochromatic winters in the north, full of subtle shifting beauty but also a monotony that makes the first bit of green shooting from the earth a cause for jubilation.  
Swedish Pile Rug #03407. 10'1" x 7'8" (307 x 234 cm)
Swedish Flat Weave Rug #22091. 10'10" x 8'0" (330 x 244 cm)
In the early modern period, colors took on symbolic and legendary meanings. Green was historically known as the color of Thursday, Venus, emeralds, youth, and strength. One of the most famous types of green textile dates from this period: Verdure tapestries, also called Garden tapestries. The world "verdure" derives from the French word for green, "vert." These tapestries were popular in Europe from the 16th through 18th centuries and are characterized by their complex plant motifs and beautiful scenes of foliage and forest. There are many beautiful 20th-century weavings that can be considered to be updates of these Garden tapestries.
Swedish Flat Weave Rug #22083. 11'6" x 8'3" (351 x 251 cm)
Swedish Pile Rug #03313. 9'3" x 6'9" (282 x 206 cm)
Belgian tapestry #02618. 7'6" x 8'11" (229 x 272 cm)
In the 18th century, green became fashionable in the modern sense of the word. There was a new interest in landscape and the pleasures of nature; Napoleon particularly favored a dark shade of green. In the late 18th century, the greens in carpets became brighter and lighter to go with the fine Rococo, Georgian, and Neoclassical styles. 
Swedish Wall Hanging #02826. 8'4" x 4'11" (254 x 150 cm)
Swedish Wall Hanging #22103. 6'7" x 4'10" (201 x 147 cm)
The great German writer Goethe, in his 19th-century Treatise of Color, wrote that green should be used in rooms for rest and conviviality. And in the 20th century, green become increasingly attractive to urban dwellers. Nature was seen as a site of authenticity, peace, and contemplation, a refuge and a source of inspiration. Now, in the twenty-first century, green has taken on new and ever-expanding meanings. It is universally seen as a way of life, a path for both the renewal of society and the restoration of the Earth.