March 01, 2017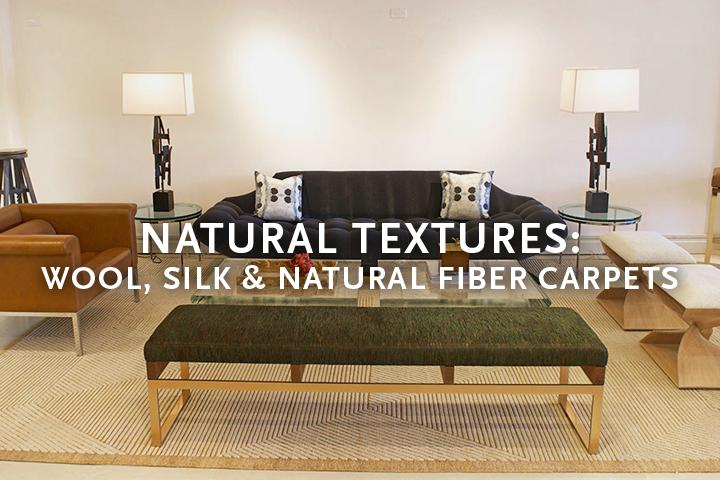 Subtle, neutral colors, raw tactility and uncluttered designs characterize FJ Hakimian's contemporary collection Natural Textures. These new, hand-woven carpets harmonize natural materials and earthy textures with sustainable luxury. The hand-knotted designs have been crafted with an innovative mix of wool, silk, and natural plant fibers and are offered in a variety of soft neutral colors and organic, minimal and geometric designs. The effect is a rich feel, subtlety and visual weight; offering a textural layer that grounds and adds warmth to a range of 21st-Century interior design styles.
The carpets are woven from a variety of materials, including plant fibers. The fine-quality silk and organic wool are from the mountain plateaus of Tibet and Nepal, or New Zealand's grasslands. Some carpets have dyed silk accents, the minimally treated plant fibers are woven into the silk and wool to add wonderful, rustic texture and detail to the shiny and luxurious pile. The pile itself is treated sculpturally, with designs cut into the pile or looped to create depth and visual interest; the rugs sit on the floor like a sculpture.
The carpets come in a variety of patterns that complement the natural materials. Simple and sophisticated contemporary designs create a look that is both elegant and laid-back. While the natural beauty and forms of nature are the primary inspiration for this collection, there are also references to the design tradition.  
The parallel stripes and modular compositions of the Broken Glass, Plains, Octagonal, Stanza and Elaine designs have a strength and delicacy that evoke late-20th-Century Minimalist art. The sophisticated forms of Fiore, Summit, Octagonal, Plains and Dash recall both mid-century Modernism and traditional Japanese textile patterns. The Deco, Boggeri, Marion, Maiandros, and Ruhlmann 1930 carpets are full of overt references to early-20th-Century designs, while the Bow Tie and Katrin patterns seem to update the hypnotic patterns of Moorish tiles. The popular Venice, Endless Curls, Palm Leaf, and Alex designs exemplify the cultivated and uncluttered organic feel of 21st-Century international design modes, while charming and intriguing the eye.