November 21, 2016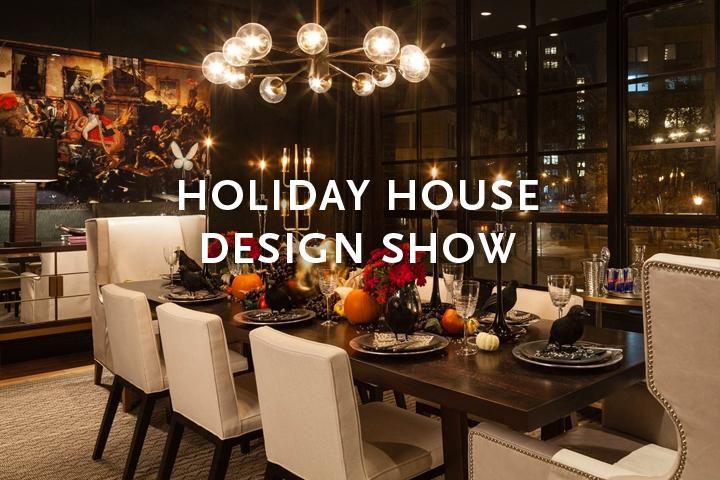 The 8th Annual Holiday House design show is going on now through January 8th, 2017. It is an event that brings together top interior designers in a worthy cause: a benefit for the Breast Cancer Research Foundation. Founded by Iris Dankner, it is one of the premier show houses in the country. This year it has moved downtown to two luxury townhouses on Soho's vibrant Sullivan Street and is honoring the inimitable Iris Apfel.
Each year, the designers create a room around the theme of the holidays—from Thanksgiving to New Year's and everything in between. For this year's rooms, three designers have selected FJ Hakimian carpets for their inspiring and fashionable projects.
Selections from FJ Hakimian include a 21st-century room-sized handmade Sardinian carpet, an Art Deco French Savonnerie, and two mid-century minimal Persian flat woven runners. This selection is representative of the strongest trends that have emerged in carpet design this decade, most notably a focus on a texture, subtle abstract geometric patterns, and sustainability.
Campion Platt's fabulous dining room was designed around the tongue-in-cheek theme of Black Friday. A grey and ivory line and zigzag pattered carpet by FJ Hakimian adds drama to the marvelous scene that includes a dramatic black crow at each place-setting. When asked about the pieces selected for this unusual room, Campion Platt playfully described the theme of Black Friday as an antidote to our pre-holiday consumerism: "All the pieces I picked have a timeless and personal craft component to them that makes for a more authentic story, and makes them more valuable as an investment piece. One can sense the human hand in their design and fabrication."[1]
This carpet is fitting for a project that seeks the authentic and handmade. FJ Hakimian has worked directly with Italian artisans in the hill town of Samugheo, Sardinia, to produce this design exclusively for the gallery. The weavers on this Mediterranean island use ancient handcraft traditions to create dramatic and very 21st-century designs at an unparalleled level of quality and craftsmanship, which can been seen and felt in the luxurious wool and complex woven patterns.
The 21st-century design world continues to be fascinated with early 20th century design movements such as French Art Deco and Bauhaus, as Fernando Santangelo shows in his glamorous, old-world Berlin Deko Tea Room. In this nostalgic creation, Santangelo places a 1930s French Savonnerie carpet as the foundation for his arrangement of new and antique furniture. The carpet, in shades of beige and blues with a design of charming concentric curves, adds luxury and warmth to the room.
And finally, Joan Dineen Architecture & Design's rooms feature two FJ Hakimian flat-woven runners. These carpets add texture and an organic element to a luxurious bathroom and hall. The perennially popular stripe motif in brown and black adds visual interest and graphic drama. These vintage Persian flat weaves were woven in the middle of the century, with natural dyes producing attractive neutral tones. Such carpets continue to be popular with designers looking to add a casual, natural element to a room's design.