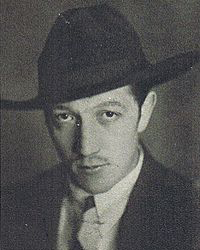 Carl Einer Andreas Forseth was a Swedish artist, illustrator, designer and painter who was born August 7, 1892 in Linköping , died December 5, 1988 . Einar Forseth is perhaps best known for his Byzantine- inspired gold mosaics in the Golden Hall of Stockholm's city hall,
whose walls are covered with 18.6 million mosaic pieces of glass and gold and Mälardrottningen as well as allegorical figures and fantasies in ultramodern style, completed in the spring of 1923.
Forseth has been involved in creating several public environments in Sweden. He was a monument artist and glass painter. He is also richly represented in Swedish church buildings and cinemas around the country. Forseth was also active in the art industry area, and composed and decorated porcelain services for Lidköping porcelain factory. In the art industry, Forseth performed the artistic design of objects intended for everyday use or as a decoration for the factory production. He also became internationally renowned for his stained glass in the cathedral of Coventry in the western part of Midlands in England in 1962.
Forseth became widower in 1979 when his wife Irma Forseth died on December 28, 1979. When he moved from his villa in Ålsten in Bromma in March 1981, where he lived and worked for 56 years, he donated significant collections artwork, including twenty artwork, sketches and studies for paintings and cartons, to Västerleds church in Bromma, where he himself died on December 5, 1988. Einar Forseth and his wife are buried at the Northern Cemetery.