August 06, 2018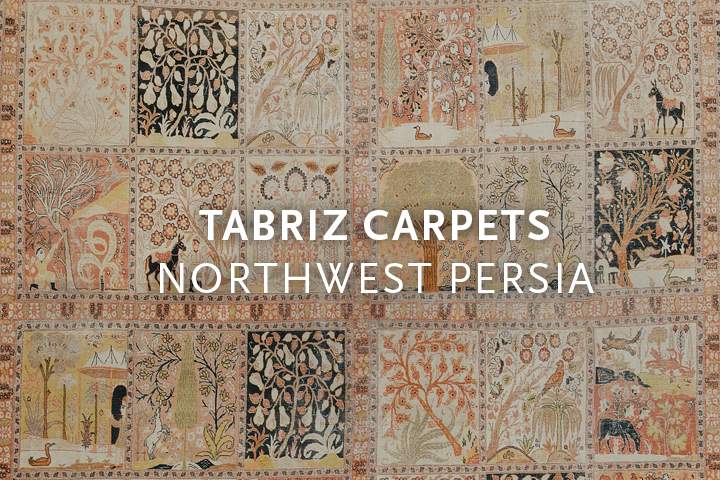 FJ Hakimian Tabriz Carpet #07150. Persia, 1890. 14'2" x 11'0".
The fame of the finely-crafted decorative rugs from the city of Tabriz can be traced back to at least the 16th century when the Safavid court commissioned these extraordinary carpets for use in palaces, holy sites, and tombs.  The famed Ardebil Carpet, long housed in London's Victoria & Albert Museum, is considered the finest extant example of 16th-century Tabriz carpet weaving.
FJ Hakimian Tabriz Carpet #07130. North West Persia, 1900. 12'9" x 9'3".
In the late 19th century Persian decorative carpet production was fundamentally changed.  The Industrial Revolution in Europe and America had created an increasingly wealthy and cosmopolitan bourgeoisie which, in turn, fueled an ever escalating demand for fine furnishings.  Large and finely woven Persian carpets became for these connoisseurs of fine art and decoration a requisite symbol of luxury and taste.
FJ Hakimian Tabriz Carpet #07132. North West Persia, 1890. 14'11" x 9'4".
FJ Hakimian Tabriz Carpet #07150. Persia, 1890. 14'2" x 11'0".
Responding to this demand, Western agents began traveling from city to city in Persia commissioning carpets for their European and American clientele.  Persian workshops, however, responded variously. Whereas weavers of cities such as Sarouk, Fereghan and Kashan continued to produce carpets in the traditional colors of deep blues and reds, those in the city of Tabriz took a different approach.  
FJ Hakimian Tabriz Carpet #07131. North West Persia, 17'5" x 11'6".
FJ Hakimian Tabriz Carpet #07125. North West Persia, 1890. 20'6" x 14'8".
Famous master weaver, Hadji Dhjalili, and other workshop proprietors of Tabriz worked closely with these Western agents so that the carpets they produced would perfectly compliment evolving Western styles of decoration.  As a result, these carpets have a softer, more restrained palette based on ivories, beiges, roses, and subtle shades of brown. Together with high-quality materials, delicacy of drawing, and fineness of weave, these late 19th-century carpets epitomized sumptuousness while serving as a neutral foundation for rooms filled with other decorative  furnishings and artwork.
FJ Hakimian Tabriz Carpet #07112. North West Persia, 1890. 21'3" x 15'4".
FJ Hakimian Tabriz Carpet # 99289. 20'0" x 14'3".
The atelier of Hadji Djalili produced various carpet designs, but his genre is unmistakable.  His best work is characterized by a judicious use of subtle color shading, known as abrash, combined with careful placement in the field of small repetitive motifs.  The result is a woven tour de force in which all the design elements meld together in remarkable cohesion and with timeless appeal.  Even now, an elegant Hadji Djalili carpet retains its status as a classic, decorative fabric as appropriate to the aesthetics of today's interior as it was the salon of a century ago.