October 22, 2014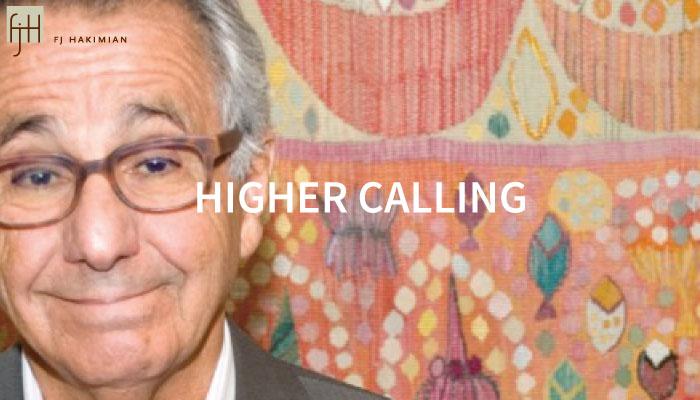 Walking into Joseph Hakimian's carpet gallery in Midtown, Manhattan is a bit like entering a cathedral. The atmosphere is meditative—like weaving upon a loom—and the myriad layers, textures, colors, and woven forms create a soothing, storied environment. Tapestries cling to the walls and countless rolled carpets stand by, all silently bearing witness.
Joseph Hakimian's love of textiles is nothing less than devotional. As the President of F.J. Hakimian for the past forty-plus years, he is not only an accomplished businessman, but also a storyteller. He has an anecdote for every textile in his collection and is quick to share even more history from the multitude of leather-bound books that fill the shelves behind his desk, documenting the breadth of his amassed textile treasury.  Hakimian elegantly balances a casual charm with earnest sincerity, and an occasional, sly smile that alludes to a subtle mischievousness. He represents one of the last vestiges of Old New York, full of chivalry and class, and speaks poetically about fibers, fabrics, and woven structures, elucidating his deep love affair with textiles. Simply put: Joseph Hakimian is irresistibly likable.
Hakimian's passion and expertise have made his gallery New York City's—and perhaps the world's—go-to resource for hand woven European, Oriental, and Scandinavian carpets, as well as luxury antique, vintage, custom, and contemporary fabrics and wall-hangings.
Hakimian's path to the decorative arts transpired with great fortitude and a good measure of fortune. Born in Iran, he moved to the United States in 1962 to pursue an education in engineering. Upon receiving his master's degree, he began work as a scientist at AT&T in Bayside, New York. Like so many other technology companies at the time, AT&T soon moved to the "tech corridor" on Route 128 in Massachusetts, and Hakimian was out of a job. Given the opportunity to alter his life's course, he decided to abandon engineering and boldly forge a new path ahead—in art.
"My antique rug business developed by accident. I just found that engineering was not for me . . . I had to move into something I truly loved." Hakimian's approach to collecting is a harmonious marriage of his intuitive and practical sensibilities. Each piece he purchases must elicit both an intellectual recognition and primal "gut" feeling. For Hakimian, art has provided a spiritual fulfillment that science could not.
At the beginning, his familiarity with Persian rugs inspired a compulsive quest for exceedingly rare antique textiles, a challenge that quickly developed into a successful business. Initially dealing mainly in Persian, Indian, and Turkish carpets, his interests broadened organically through travel and experience, and, over time, he began to collect European and Russian carpets as well. The sheer caliber and breadth of these textiles is humbling; Hakimian's collection ranges from exquisite works dating back as far as the 16th and 17th centuries to present day pieces, freshly commissioned from the world's top textile artists.
Dealing exclusively in hand woven fabrics, he deeply values the art of the craftsperson, and prefers to work collaboratively with traditional weavers throughout the world.  While the fineness of the textiles is certainly alluring, Hakimian maintains that it is the character of the pieces that is the cornerstone of their greatness. While Hakimian is undoubtedly an astute businessman, he is also a romantic—his admiration resides in the craftsmanship and the spirit of the textile, inextricably woven within the very fibers of the piece.
Perhaps it is fitting then, that Mr. Hakimian maintains a high regard for the structures that we inhabit as well. Architecture, he notes, has always been one of his keenest interests. It may be kismet, then, that architecture inspired perhaps his life's most enduring and fruitful interest: Swedish textile design. While on a trip to marvel at Stockholm's cityscape over 25 years ago, Hakimian had his first encounter with 20th century Swedish carpets. As he explains, with a note of wistful reminiscence, "I saw my first carpet and I fell in love—I immediately bought it. When I brought it in and placed it on the gallery floor, I told myself that I could never sell it. It was so graphic."
Clearly, it was another of Hakimian's flashes of prescience; a few decades later, Scandinavian modernist textiles have become epically en vogue. "You see, in the 1980s and early '90s, people would come into the gallery and say: I collect English furniture, I collect French furniture… sell me something that suits my collection. Today, people come in and show me pictures of their modern or contemporary paintings." For these, new, art-conscious collectors, the bold, yet unfussy, Scandinavian pieces hit the nail on the head.
As one would expect, Joseph Hakimian has garnered much renown and his client list includes impressive names such as former MoMA Director Agnes Gund and filmmaker Steven Spielberg, among others. Always with an air of polite discretion, he alludes to the dignified provenance of many of his carpets, originating in the collections of the likes of Doris Duke. And Hakimian humbly credits his clients and collaborators with aiding his own ongoing education. "I've been very fortunate showing to prominent clients, architects, and designers. Showing things to them is the best education I have ever had. 'Too floral, too primitive, too formal', [they'll say]; and I learn as they talk."
Travel, however, may be his greatest influence. "Traveling is probably the biggest reason for my success. It opens your eyes. I think that whatever your background is, you just walk around Paris, Rome, Barcelona and your taste enhances, without question. It's so enriching to walk through these great towns."
Though Hakimian honors the past through his world-class vintage collection, his entrepreneurial spirit has also led him to create his own line of contemporary carpets. Citing influences like Josef Hoffman, Émile Jacques Ruhlmann, and Anni Albers, Hakimian's interpretations are innovative and fresh; for a man with over forty years of success, he is impressively inventive and open to new ideas and techniques.
Case in point? The 1940 Vintage Kilim Compositions, for which Hakimian conceived a series of contemporary carpets composed of mid-20th century hand-woven kilim panels from Persia and Turkey. Young women in nomadic tribes typically weave the panels for their marriage dowries, later using the fabric to embellish their tents. The collection combines these flat weave panels to create striking, geometric carpets.
For another contemporary collection, Hakimian explains, "I went to an arts and crafts show in South America and fell in love with the baskets. I loved their texture, and I asked the weaver if she would weave carpets based on this idea. The lady thought I was crazy, but now I have carpets that are made of Irika fiber—very similar to Abacá, indigenous to Colombia, which grows on the coast of the Amazon River. Now we have carpets that echo the South American basket weave."
Clearly, at seventy-one, Hakimian is showing no signs of fatigue. "We're going to religiously pursue great artisans. Try to represent what they do. That's the main thing. But we're also going to listen to our designers, bring new ideas to the artisans, and collaborate for a successful relationship. The sky," he says, looking around his textile temple, "is the limit."
Text by



Jacqueline Sullivan

Jacqueline Sullivan is currently a graduate student at the Cooper Hewitt / Parsons School for Design, studying the history of decorative arts and design. Previously she was the project manager & copywriter at RoAndCo in NYC.