May 29, 2020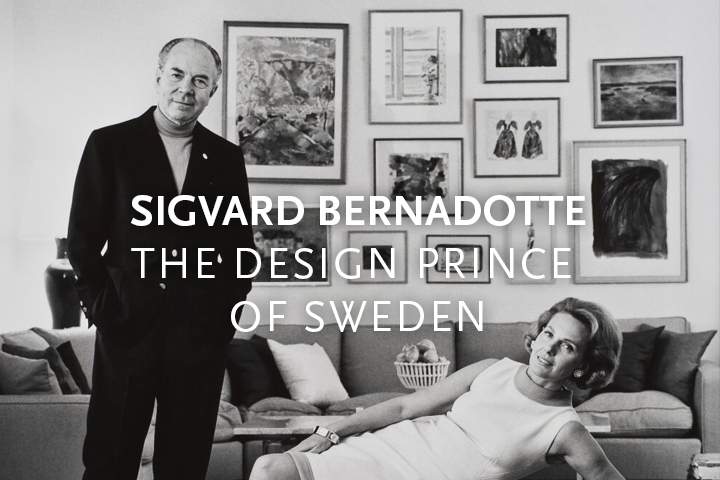 Sigvard Bernadotte (1907-2002) and his wife Marianne Lindberg (b. 1924). Photo: Erik Cornelius / Nationalmuseum. © Bildupphovsrätt i Sverige
Sigvard Bernadotte is best known for his work designing silver for the Danish firm Georg Jensen. Many of these works are considered twentieth century design classics and are included in the collections of the Metropolitan Museum of Art, the British Museum, and countless other prestigious museums and institutions around the world. While the Bernadotte name is well known in the design world, it is not for his textiles and carpets in particular. And yet his woven works exhibit many of the same qualities that make his other designs so beloved. He was able to deftly translate his design genius across a wide range of mediums. 
The FJ Hakimian Collection of Scandinavian rugs and carpets includes several of Bernadotte's works. For Scandinavian carpet designs, Bernadotte's tend towards a particular sort of elegance. They have an ease in their design that subtly evokes the natural world and offers a feeling of timelessness. 
Bernadotte has an unusual background for a designer. Born in 1907, he was the second son of the crown prince of Sweden who would later, in 1950, become King Gustav VI. This also made him the great-grandson of Queen Victoria of England. 
As a young man he was not interested in traditional royal pursuits, instead being drawn to the arts at a young age. It was not usual for a member of the royal family to study at the university at this time, but he entered Uppsala University and also earned a degree at the Stockholm Academy of Fine Arts. At the beginning of his career he worked in theatrical design and in the German and American film industries. After spending time in America and meeting prominent industrial designers there, he shifted his focus to industrial design. 
Swedish Pile Rug #03325. Sweden ca. 1940. 12'0" x 9'2" (366 x 279 cm)
Around 1930, the year he began to design for Georg Jensen, Bernadotte met the woman who was to be his first wife, Erika Maria Patzek. She was German and not royal. In 1934, just two years before his more famous cousin Edward VIII of England did the same, Sigvard Bernadotte married her and was stripped of his royal titles: Prince Sigvard became Mr. Bernadotte. 
Sigvard worked tirelessly as a designer and was brilliant at Georg Jensen. While he may have been hired for his social connections to some degree, he managed to completely reinvigorate the firm. His designs were far more modern than the previous Art Nouveau works produced by the firm and many are now considered Art Deco masterpieces, in continuous production since they were first released. It was also under his influence that Scandinavian design was brought to the United States, where it would become extraordinary popular in the mid-century.  
His carpet designs, produced at Nils Nessim's Textile Atelier in Stockholm, include both pile carpets and flat weaves. These designs are modern and refined, often composed of small geometric elements like triangles (used in several carpets) that create lovely subtle compositions and highly stylized representations of hourglasses and fir trees. They are simple and blend seamlessly into their environment. One of these carpets in the FJ Hakimian Collection, designed in 1940, has an overall field of stacked triangles, with the lovely colors—close tones of muted pastel wool on a natural background—enlivened with slightly darker contrasting triangles in moss green and purple wool.
Swedish Flat Weave Rug #02647. Sweden ca. 1941. 9'11" x 5'11" (302 x 180 cm)
Another beautiful work in the collection is a half-pile carpet in a shimmering winter palette of natural, ivory, and cold gray and blue, with the clean lines and luxurious shining surfaces he is so famous for. The simple design is made up of rows of hooked F-like geometric shapes. 
Swedish Pile Rug #03430. Sweden ca. Mid 20th Century. 9'3" x 8'10" (282 x 269 cm)
His charming "Song of the Birds" carpet looks like it was inspired by the Swedish spring, with white twittering birds and a dark natural field scattered with stylized flowering vines that seem to sprout from the soil. 
"Song of the birds" Swedish Pile Rug #03248. Sweden ca. 1940. 6'10" x 4'6" (208 x 137 cm)