December 15, 2015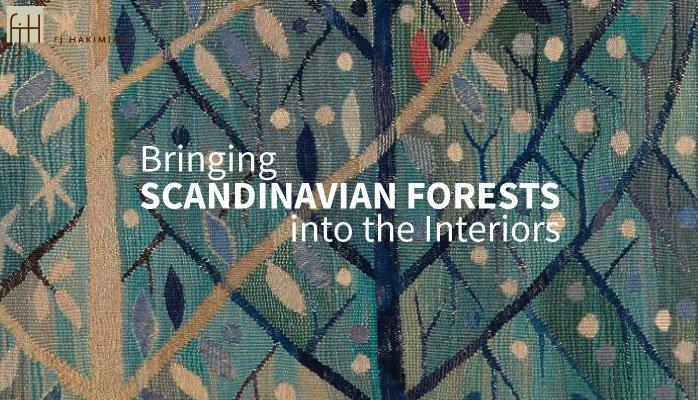 The term "Scandinavian design" originates from an exhibition that traveled the US from 1954 to 1957. Promoting the "Scandinavian way of living," it exhibited various works by Nordic designers and established the meaning of the term that continues to endure: accessible, simple and clean designs, inspired by natureand the northern climate, with an emphasis on enjoying the domestic environment.
In this post, we'll take a look at textiles that help bring nature into Scandinavian interiors. 
Scandinavians have a deep-rooted love of nature, and their twentieth-century textile designers were no exception. Their much-loved summer months may be short, but they nevertheless found a way to bring nature indoors. Some of the key elements of mid-century Scandinavian interior design and Scandinavian inspired contemporary projects are natural plants, expansive windows that let in natural views, furnishings with natural wood-grain finishes, and decorative arts that mimic nature. 
[ABOVE: A stunning living room in a mid-century house designed by a noted AD100 architect Alan Wanzenberg. Vintage Swedish wall hangings from FJ Hakimian Gallery hang above Axel Salto vases and natural wood-grain furniture. (photos: from alanwanzenberg.com and Alan Wanzenberg, "Journey: The Life and Times of an American Architect," 2013, pages 153 and 147)]
The two vintage leafy-design wall hangings shown above -- one geometric and the other folk artsy -- are from Sweden, ca. 1946. Both are signed "AB MMF," indicating that they were woven by the Märta Måås Fjetterström atelier in Sweden. Below the wall hanging, furthering the nature-brought-indoors theme, are ceramics by Axel Salto (1889-1961, Danish) that accent this otherwise simple space with their wildly expressive, organic forms.
Märta Måås Fjetterström was a Swedish textile artist who left behind a rich legacy of some 700 different original designs with working instructions at her passing in 1941. Her workshop was converted into a limited company in 1942 to manage and renew her patterns. The slopes and forests of Båstad in south Sweden, the artists's home until her death, were a never-ending source of inspiration. Imaginative interpretations of trees, flowers, leaves, and the occasional horse, are recurring themes in her work. 
It is my pleasure to share from our collection, examples of vintage Swedish wall hangings inspired by the Scandinavian forests. Many are signed pieces from AB MMF. Those in the size of small samplers (around 1' to 2') make sweet accents in interiors, while others that measure over 7 foot on the longer axis can be "statement" pieces as works of art on the wall.
The designs range from the figurative and representational...
...to the more stylized, and...
...to fantastical imagery of horses roaming the forests. They burst with colors and have a strong, graphic quality.
And then there are designs that put us right in the mood for Christmas: snowflakes, ribbons, pine cones, and snow falling softly in the forest!
---
FJ Hakimian is the leading resource for custom, modern, vintage and antique carpets and textiles. Headquartered in New York City, FJ Hakimian connects weavers, textile artists, interior designers and architects throughout the world on a common thread that is the passion for quality hand-woven carpets, mats and textiles. 
Come visit us at  145 East 57th Street 2nd Floor NYC or stay connected via social media: