September 03, 2021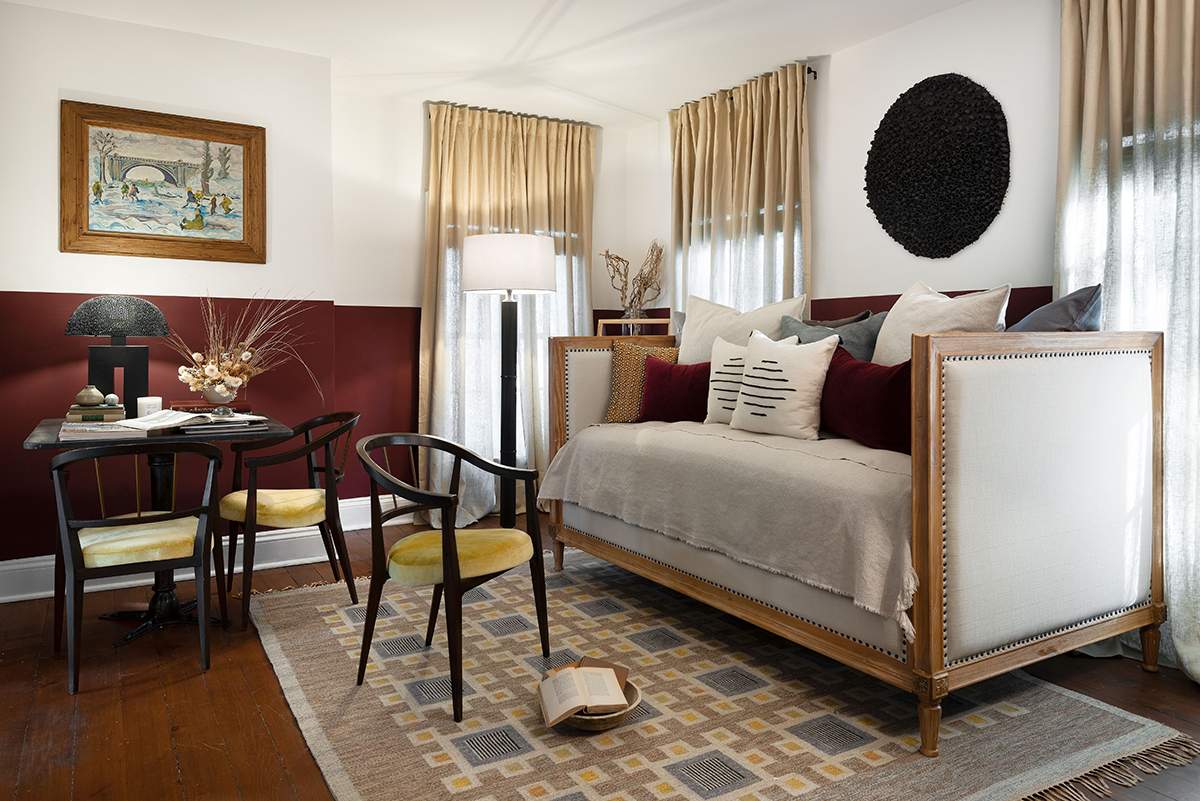 Brooklyn Heights Designer Showhouse 2019. Interior design by Hendley & Co. Photography by Bone NYC
Swedish Grace was an exquisite, early twentieth-century design movement, that remains largely unknown today. Prior to the more famous, minimalist Swedish designs that were to develop in the post-war period, Swedish Grace developed in parallel with the more famous Art Deco movement. It is an important chapter of modern design history and can be considered the Nordic branch of the Art Deco style.
Swedish Pile Rug #03446. Sweden ca. 1930. 27'5" x 15'4" (836 x 467 cm)
Like other developments in European design in the later part of the first quarter, and second quarter of the twentieth century, Swedish Grace was a shift towards geometric stylization, streamlining, and a paring down to the essentials of line and form. However, Swedish Grace differs from Art Deco in that it often incorporates playful Nordic folk motifs, neoclassical elements, and a particularly refined sense of color that is characteristic of Swedish art.
The Swedish pavilion at the Paris International Exhibition of 1925. Furniture designed by Carl Hörvik (1882–1954) and produced by Nordiska Kompaniet. © Nationalmuseum
Swedish Pile Rug #03310. Sweden ca. 1931. 13'3" x 7'2" (404 x 218 cm)
The term Swedish Grace was first coined by the British critic Philip Morton Shand after he visited the art and craft pavilions at the 1923 Gothenburg Exhibition. This was an exciting period in Swedish art and design, and many public buildings were designed according to this new mood. The most famous building in the style, which is also sometimes referred to as the National Romantic Style, is architect Ragnar Ostberg's City Hall in Stockholm. This building remains beloved for its unexpected, playful combination of eclectic styles. Further examples of Swedish Grace, primarily furniture and decorative objects, delighted international critics in the lovely Swedish pavilion at the 1925 Paris World's Fair. 
Swedish Pile Rug #03396. Sweden ca. 1940. 7'1" x 5'4" (216 x 163 cm)
Swedish Wall Hanging #22102. Sweden ca. 1940. 4'11" x 4'1" (150 x 124 cm)
Many of the carpets designed by Sweden's most famous textile designer, Märta Maas-Fjetterström (1873-1941) can be considered examples of Swedish Grace. Her importance as a carpet and textile designer is difficult to overstate. Essentially, she was the progenitor of the modern style of textiles and carpets in Scandinavian. She revolutionized the craft, and served as an inspiration for the generations of designers who were to come after her. Her designs often drew on folk craft motifs and were made using traditional techniques, but had the refinement and elegance of Swedish Grace. 
Swedish Pile Rug #03152. Sweden ca. 1910. 14'10" x 10'2" (452 x 310 cm)
Another exquisite carpet in the FJ Hakimian Collection is a beautiful work by Selma Levina Giöbel (1843-1925).  This carpet is an example of the fascinating origins and early years of the Swedish Grace style. Furthermore, Giöbel is an exemplar of a brilliant generation of female artists in Sweden in the early twentieth century. Its wholly unique and dynamic design in a soft and elegant palette recalls the pioneering paintings of early-twentieth-century painter Hilma af Klint, whose 2019 Guggenheim retrospective exhibition was the blockbuster of the year in New York. In this carpet we see the extraordinary skill of Giöbel working in a style somewhere between Art Nouveau and the forefront of Swedish Grace. 
Swedish Pile Rug #03325. Sweden ca. 1940. 12'0" x 9'2" (366 x 279 cm)
The carpets of another well-known designer, Sigvard Bernadotte, exemplify the sophisticated forms and colors of the Swedish Grace period. Bernadotte is known for having had the rare distinction of being been born a prince, he was the second son of Sweden's King Gustaf VI Adolf. Today he is most well-known as the designer of timeless silver patterns for Georg Jensen, works of extraordinary simplicity and elegance, that have endured for a century. His many carpet designs from the second quarter of the twentieth century are works of graceful refinement with a nod to neoclassical forms.
The FJ Hakimian Collection includes many other pieces that were woven during the exceptional period of Swedish Grace. These works, with perfect proportions, balance, and delicacy can offer an interior a vestige of the subtle and refined mood of this time.