February 18, 2022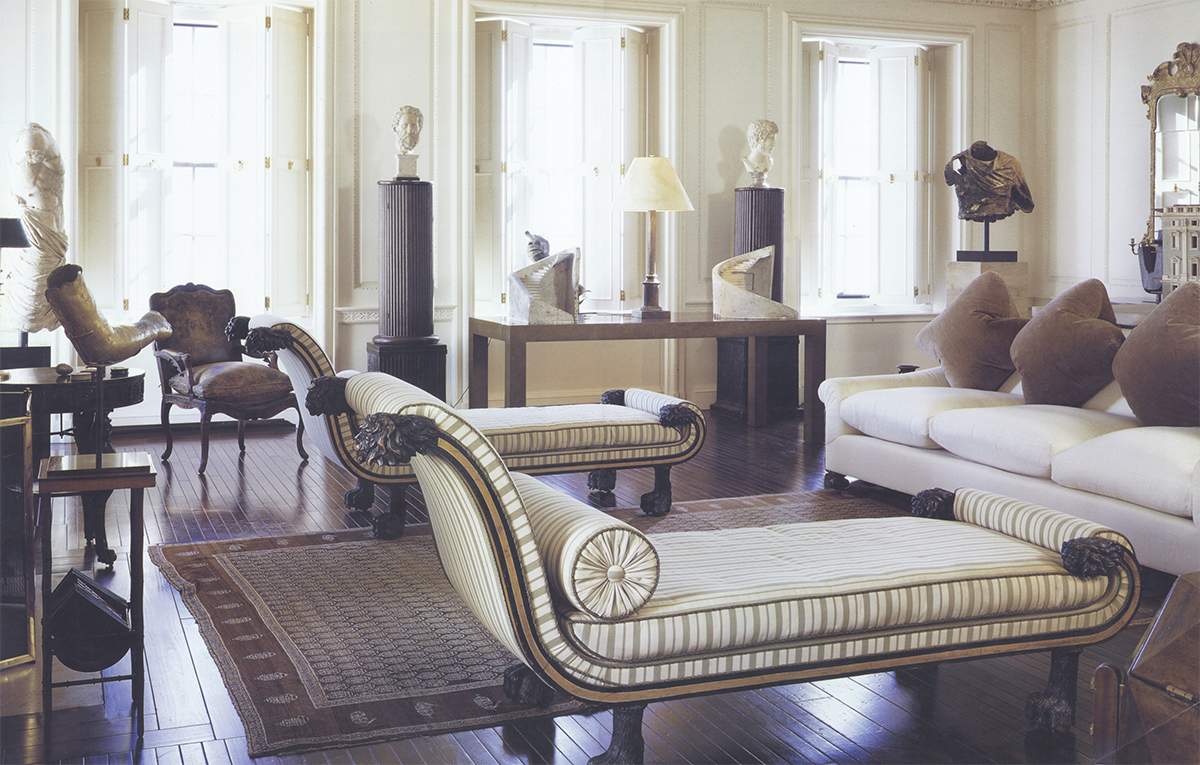 Interior design by Mac II interiors. Photography by François Halard.
Heriz #05051. Persia ca. 1820. 8'9" x 8'9" (267 x 267 cm)
Persian carpets are renowned for their rich beauty. The densely-decorated, flower-filled fields are an unmistakable hallmark of Persia's extraordinary carpet tradition. The culture of Persia is one of the oldest in the world and its artistic patrimony is one of the most storied. FJ Hakimian has an extensive assortment of Persian carpets; each a manifestation of this venerable heritage.
The arts in Persia date back to around 5000 BCE, and a surprising number of works from the Paleolithic, Neolithic, and Bronze Age periods have survived. The immense and mighty Achaemenid Empire (c. 550-330 BCE) was centered at Persepolis. While textiles and carpets do not survive from this period, fragments of architecture, and the vestiges of formally arranged gardens do. The extraordinary continuity of Persia's artistic heritage is evident in the lotus flowers, cypress trees, and geometric borders that have continued to adorn Persian art for over 2,500 years. These deep-rooted motifs appear in carpet and textile arts through to the present day. 
Ziegler Sultanabad #06097. Persia ca. 1890. 10'2" x 8'1" (310 x 246 cm)
The highly developed court style of the Sasanian Empire (224–651 CE) included woven arts. These sophisticated works, including intricate geometric and floral-design silks and carpets, were highly regarded throughout the world and traded far and wide. These carpets and textiles were stylistically influential for centuries in both Asia and Europe. The largest percentages of these ancient Persian textiles survive in European cathedrals' reliquaries. The designs were also influential in the artistic achievements of medieval Islamic period.
Tabriz #07112. North-West Persia ca. 1890. 21'3" x 15'4" (648 x 467 cm)
Bakh Shaiesh #05070. North-West Persia ca. Late 19th Century. 14'7" x 9'1" (445 x 277 cm)
Persian textile arts continued to develop during the Islamic period, and were perfected in the early sixteenth century under the unified Safavid Empire. The unmistakable court style of Safavid carpets, filled with vine-scrolls, arabesques, and abundant blossoms have endured for centuries. The great Shah Abbas's reign (1588–1629) is regarded as the pinnacle of Persian artistic accomplishment, and it was at this time that carpets began to be imported into Europe. Consequently, Persian carpets, in both floral and geometric designs, became an important part of elite European visual culture in the seventeenth century.
Ziegler Sultanabad #06175. Persia ca. 1880. 20'5" x 15'0" (622 x 457 cm)
Heriz #05061. Persia ca. 1900. 12'0" x 9'1" (366 x 277 cm)
Most often, Persian carpets are balanced and graceful arrangements that represent poetical and spiritual gardens. In later centuries we see the continuation of the Safavid influence in the flowers, birds, animals and plants that first appeared on court fabrics in the 17th century. The flower-filled fields are in essence earthly paradises that reflect the perfection of the heavenly paradise. Most are designed as from a bird's eye view, and often include a central medallion; this central focal point symbolizes the sun, the source of divine light.
Tabriz Silk #07155. North-West Persia ca. 1880-1890. 5'9" x 4'2" (175 x 127 cm)
Carpets with niche or arch compositions take the idea of a gateway to paradise even further. In this example from the FJ Hakimian Collection, a niche is flanked by two blue cypress trees. The viewer enters through the cypresses into a garden. These instantly recognizable trees are often placed near shrines and mosques in Iran and are evocations of the afterlife. This particular example also includes a vase, a popular motif that represents the life-giving gift of water. Other niche carpets in the collection sometimes include a lamp that can be interpreted as another metaphor for the divine.
Persian Flatweave #22121. Persia ca. 1940. 16'8" x 9'6" (508 x 290 cm)
Persian carpet designs have endured for centuries. Variations and innovations have been consistent but the compositions have tended towards abundant floral and beautiful geometric styles. The graceful rhythm and movement of layers of scrolling vines, sweeping arabesques, lotus stems, delicate leaves, and open blossoms all invite the viewer to look into a sublime oasis, away from the mundane. Furthermore, this tradition of celestial gardens brought down to earth allow one to delight in the graceful, cumulative expression of a heritage that goes back millennia.