July 17, 2019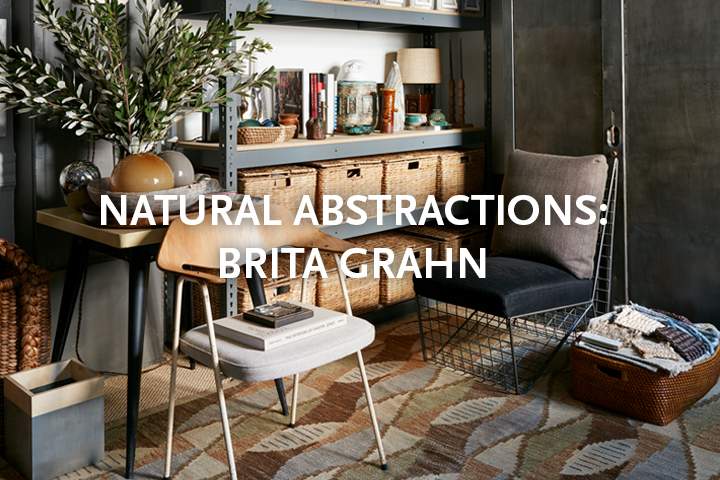 Interior design by Charlie Ferrer. Photo by Stephen Kent Johnson 
The FJ Hakimian Collection includes five works by Swedish designer Brita Grahn (1907–2013). Each composition is a restrained, intellectual abstraction that hints at the natural world as a source of inspiration. 
 FJ Hakimian Swedish Flat Weave Carpet #02783. Sweden ca. 1940. 9'10" x 6'10" (300 x 208 cm)
When looking at Brita Grahn's woven compositions, the words of Austrian artist Dagobert Peche seem apt: "Art is an attempt to perceive the invisible rhythm that surrounds us, in order to discover its laws and bring order to chaos." In Grahn's carpets, eye-catching, lively, and stylized patterns, woven in understated and muted natural tones evoke nature. 
FJ Hakimian Swedish Flat Weave Carpet #02810. Sweden. 5'7" x 5'3" (170 x 160 cm)
Grahn's education in the textile arts began at the Rackstad Colony, an artists' collective founded at the turn of the 20th century by the Romantic Swedish landscape painter Gustav Fjæstad (1868–1948). Grahn studied with the painter's sister Amalia, who in the 1920s had founded an offshoot of the colony, a tapestry school in Arvika where she sold rugs and tablecloths in Jugendstil patterns. Grahn's compositions are clearly influenced by this linear and geometric style that is rooted in the natural world, although her works are more restrained and have fewer decorative flourishes and curves. 
FJ Hakimian Swedish Flat Weave Carpet #02925. Sweden ca. 1950. 11'6" x 8'5" (351 x 257 cm)
Grahn continued her studies at the Brunssons weaving school in Stockholm, and from 1932 to 1940 she had her own textile studio, Ateljé Textura, in Uppsala, Sweden. She experimented in a variety of carpet techniques and her works include flatweaves, relief pile, pile, and tapestry techniques. In 1942 she became the artistic director of AB Robert Ditzinger, one of Sweden's major interior design firms. 
FJ Hakimian Swedish Pile Carpet #03251. Sweden ca. 1940. 6'11" x 4'8" (211 x 142 cm)
Each of the Grahn carpets in the FJ Hakimian Collection is an overall geometric composition with subtle natural coloration. The chevrons, squares, and triangle shapes move across the fields of these carpets. The wool, naturally dyed in tones of grays, browns, greens, and blues, evoke the seasons: river stone and the austere beauty of nature, leaves newly sprouting in the spring and falling in the autumn. All are refined and controlled evocations of nature by an artist in full control of her medium.  
FJ Hakimian Swedish Pile Carpet #03317. Sweden ca. 1940-1950. 8'5" x 6'6" (257 x 198 cm)
Interior design by Robert Stilin
View more our Brita Grahn's Carpet Collection