August 18, 2017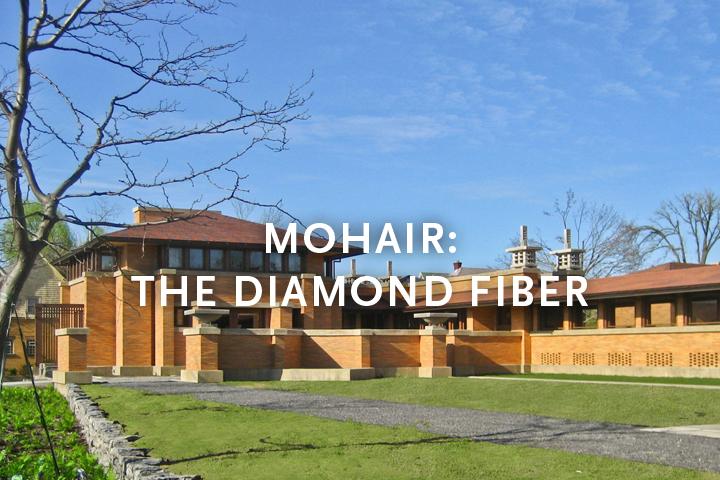 The Martin House in Buffalo, designed by Frank Lloyd Wright (1867-1959).
Mohair is an extraordinary fiber. It comes from the fleece of the Angora goat, a breed that originated in Tibet [1],  and compared to other fibers from Far Eastern and South American goat breeds, mohair is exceptionally unique for its unparalleled luster, resilience and an ability to fully absorb dyes. 
For millennia it has been prized for its distinct properties. Mohair textiles are mentioned on ancient Sumerian cuneiform tablets and in the Old Testament where the textiles played a role in religious ritual [2].  In the 20th century, designers such as Frank Lloyd Wright and Jean Michel Frank often used these textiles in their designs. Mohair carpets and draperies have a poised effect, in Wright and Frank's work, lovely handsome beiges and other rich modern neutrals added a quiet richness to their interiors. 
In 15th and 16th Century Ottoman Turkey a royal industry of mohair production was highly developed. The sultan and his powerful viziers controlled the international trade in this luxury product, which during the Renaissance was a desired exotic rarity of the East. British and French demand for these fibers far outstripped supply in the European markets, and eventually led to shortages in the Ottoman Empire. The sultan finally had to ban the export of mohair to keep up the supply at home [3]. 
Mohair has a physical structure that is different from sheep's wool. Like horn, mohair is composed mostly of the protein keratin, making it light and strong. The fibers take dye exceptionally well and have distinctive light-reflecting properties. Dyed mohair colors are saturated, rich and intense. The exceptionally strong fibers have a tensile strength that rivals that of steel, and because of this and its gorgeous sheen it is sometimes called the "diamond fiber." Today, South Africa and the United States are the two largest mohair producers, where the goats thrive in dry climates. The first Angora goats were imported into the United States in the mid-19th Century as a gift from the sultan of Turkey.
 

FJ Hakimian's new mohair collections, masterfully handmade in South Africa, pair the luster and luxury of mohair with an emphasis on alluring textures that act as perfect counterparts to other fabrics and finishes. The carpets and textiles are suitable for interiors from the refined and minimal, to mid-century glamorous, and to casual, tactile and contemporary. A wide range of color ways, patterns, weaves, and finishes are available and can be customized to accommodate a variety of design projects. 
---
 [1] Franck, Robert R, Institute M. E. Textile, and Franck R.R. Silk, Mohair, Cashmere and Other Luxury Fibres (woodhead Publishing Limited Series on Fibres). Woodhead Publishing, 2001. p.73.
 [2] Fabre-Pradal, Magali. Le Guide De L'éleveur De Chèvres: De La Maîtrise À L'optimisation Du Système De Production., 2014
 [3] Leiser, Gary. "Traveller's Accounts of Mohair Production in Ankara from the Fifteenth Through the Nineteenth Century." The Textile Museum Journal / Textile Museum Washington, DC (1994): 5-34.
Top Image: The Martin House in Buffalo, designed by Frank Lloyd Wright (1867-1959). Martin House Restoration Corporation.
View more Mohair Carpets in our collection.
View more Handwoven Mohair Curtains in our collection.
View more Handwoven Mohair, Bamboo & More Curtains in our collection.
---
FJ Hakimian is the leading resource for custom, modern, vintage and antique carpets and textiles. Headquartered in New York City, FJ Hakimian connects weavers, textile artists, interior designers and architects throughout the world on a common thread that is the passion for quality hand-woven carpets, mats and textiles. 
Come visit us at  145 East 57th Street 2nd Floor NYC or stay connected via social media:
Visit our website for our custom woven mat collection.
Follow our company page on LinkedIn for upcoming articles.
Follow us on Pinterest; Instagram; FaceBook; Twitter.
Please contact fjh@fjhakimian.com for any questions.