July 02, 2021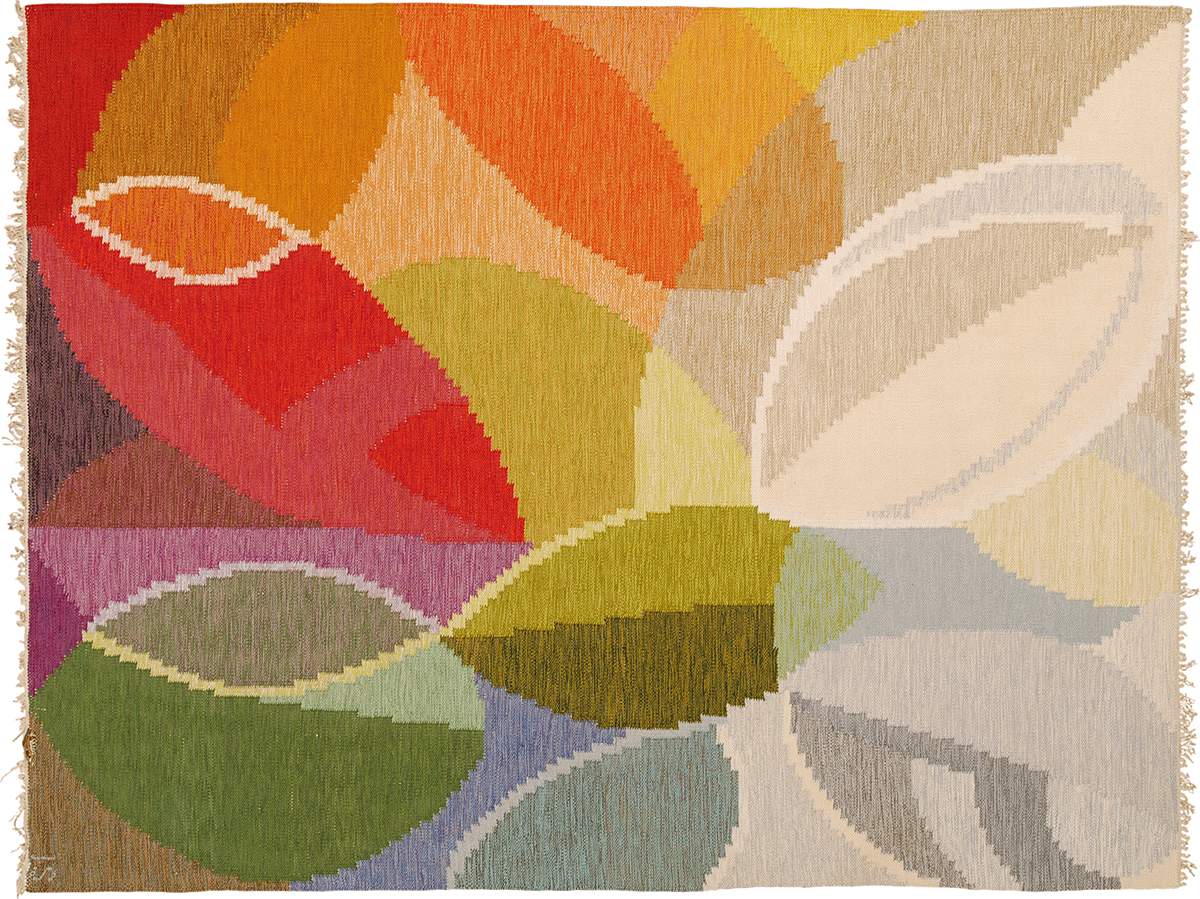 Swedish Flat Weave Rug #22074. Sweden ca. Mid 20th Century. 7'4" x 5'8" (224 x 173 cm)
Ingegerd Silow (1916-2005) was one of the most prolific and influential Swedish carpet designers of the midcentury. During her long career she designed an extraordinary number of carpets and rugs, mostly in the flatweave rölakan style. Her designs are known for a contemporary and sophisticated take on the motifs and mood of the romantic Swedish Grace Movement of the 1920s, as well being influenced by her travels in the American Southwest and Mexico. 
She was part of a second generation of twentieth century Swedish textile designers. As with her other Swedish design-world contemporaries, she would have been made acutely aware of her predecessors while she trained at the Konstfack, Stockholm's famous art and craft school. Her training in folk craft is evident in her carpets, which are of the highest quality in terms of their impeccable materials and weaving techniques. Furthermore, her works radiate the warm minimalism of classic Swedish design. 
Swedish Flat Weave Rug #22208. Sweden ca. 1940. 8'4" x 2'9" (254 x 84 cm)
For example, this lovely, well-balanced Torvalla runner, in an autumnal color palette, is both unassuming and sophisticated. The natural tones of the wool add to the peaceful and harmonious design that is named for a district of Sweden. 
In addition to her rugs and carpets, Silow worked as a prolific pattern designer for the Swedish Handicraft Association, Svensk Hemslöjd. Her curtains, blankets, and other furnishing pieces were mass produced by companies including Axeco AB, AB Heyman & Olesen, and Eric Ewers AB, and made their way into many post-war Swedish homes.
Swedish Flat Weave Rug #02927. Sweden ca. 1940-1950. 14'9" x 9'7" (450 x 292 cm)
Her designs range in mood and style. This graceful carpet, with its gorgeous pale-grey field set within a calm blue border with unusual pink and green accents, is delicate and spare. It has all the elegance and simplicity of the Swedish Grace movement, combining a lovely neo-classical and deco shapes with a particularly minimal Swedish sensibility.
Swedish Flat Weave Rug #22029. Sweden ca. Mid 20th Century. 9'5" x 6'4" (287 x 193 cm)
In Silow design's such as Bladmosaik or Leaf Mosaic, produced by Axeco, both the  seriousness of the folkcraft tradition in Sweden, as well as the functionalism of post-war Swedish design are exemplified. The design of enlarged, colorful, kaleidoscopic leaves has remained  as original and fresh in the decades since it was first designed, and it remains an audacious and imaginative contemporary classic.
Swedish Flat Weave Rug #22052. Sweden ca. 1940. 7'7" x 5'6" (231 x 168 cm)
In this interesting design, the bold, schematic field is flanked by a wide ivory border with notched forms. It was likely influenced by the Navajo and Mexican rugs the she would have encountered on her travels. The carpet's warm color palette of refined earthy tones with grey accents are reminiscent of the American Southwest.
Swedish Flat Weave Rug #02712. Sweden ca. 1950. 9'0" x 6'3" (274 x 191 cm)
This lovely carpet in the Örbyhus design, is warm yet modern. The designed is named for a Swedish town famous for its fifteenth-century castle. While its exact inspiration is unknown, the clean geometry could represent simplified baroque forms of Swedish architecture or the universal harmony of the geometric designs she encountered in Navajo design. In this example, Silow's brilliance as a colorist is evident; the mixing of harmonious tones is a masterpiece of subtle sophistication.
Ingegerd Silow's carpets are timeless, masterpieces of the midcentury. Her woven compositions have the ability to connect an interior space to nature and the organic world. It is no wonder that her works have been collected and appear in Museum collections around the world. It is undoubted that these radiant compositions of a modern master will continue to endure and enchant for years to come.