August 01, 2018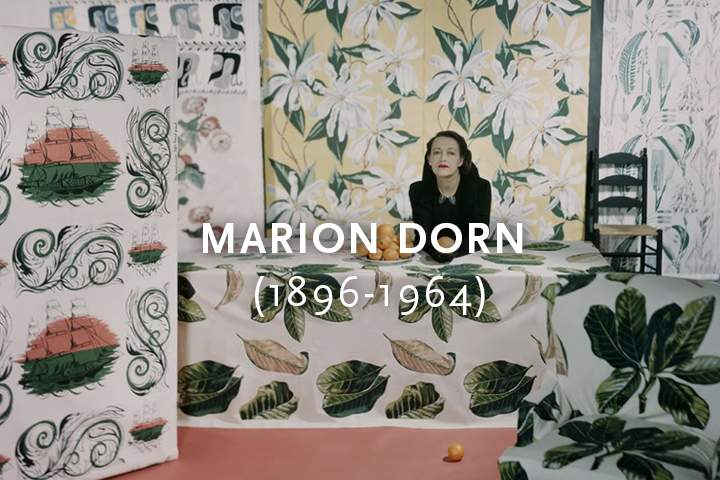 Marion Dorn and her fabrics for House and Garden, July 1947. Photograph by Horst P. Horst. Source: Decor Arts Now
Marion Dorn is an iconic textile designer who was born in California on December 25, 1896. In 1916, she graduated from Stanford University with a Bachelor of Arts in Graphics. First, Marion tried her luck in San Francisco, later in New York, where she gained recognition as a designer of batiks. Her career really started to take off during the 1920s when she discovered her passion in textile design.
Marion Dorn
In the early 1920s, Dorn developed an interest in textile design, and followed designer Ruth Reeves around Paris in 1923, then moving to London from New York in that same year. Marion Dorn is probably best known for the rugs that she began to design in the 1920's, designing for many prominent weavers and manufacturers, one being the Wilton Royal Carpet Factory, having a reputation for producing quality products. The association with Wilton Royal was launched by an exhibition of rugs held by Arthur Tooth & Sons Gallery, which gave Dorn significant exposure.  The success of this show was followed by a string of important commissions for Dorn. She had a fruitful relationship with Savoy Hotel Group, beginning in 1931, when she designed carpets for the bedrooms in the Berkeley Hotel and several carpets for Claridges Hotel, followed by many carpets for the Savoy Hotel itself, producing in all, the Savoy used 369 corridor and landing rugs in about four different designs.
Marion Dorn rugs in the Claridges Hotel lobby. Source: Decor Arts Now
"Marion III" Custom FJ Hakimian carpet. Mixed Swedish Pile & Flat Weave Technique, 70% Tweeded Wool & 30% Cotton. Available in custom sizes and colors
During that time, Dorn was also engaged in designing for ship interiors, when the Orient Line introduced her rugs and carpets into the Orion, hailed as a revolution in ship design when it was launched in 1935.  Dorn's carpets were used to indicate different functions within one space and were positioned in the first-class public areas of the ship and the special state room.  Since Dorn's rugs were expensive and were considered as luxury items they were reserved for the public spaces and best cabins. Her iconic design "Colindale Moquette" is still used now in London's public transportation.
Marion Dorn's 'Colindale Moquette' seat design for Transport for London. Source: Mayor of London's Office, The Telegraph
'Colindale Moquette' seat design for Transport for London. Source: Mayor of London's Office, The Telegraph
In 1939, interior designer, HG Hayes Marshall described Marion Dorn as 'one of the most prominent and successful designers of our time'.  Dorothy Todd, an influential journalist who had first brought Dorn to public attention in 1925, christened her the 'architect of floors'.
"Marion" Custom FJ Hakimian carpet. Pile Technique, available in custom colors and sizes.
"Marion II" Custom FJ  Hakimian carpet. Pile Technique, available in custom colors and sizes.
In terms of style, Dorn consistently drew inspiration from nature and classicism while always treating these subjects in a manner which suited contemporary design trends. The composition of designs, with the use of space itself being considered as important as the treatment of motif, distinguishes her work from that of many of her contemporaries.  Her role in raising the status of a rug as a significant focus in the room was based on appreciation of trends in interior design and architecture, and her designs were always conceived in sympathy with their surroundings.
Book, Book of Carpet Designs, ca. 1928; Designed by Marion Dorn Kauffer and Edward McKnight Kauffer; USA; brush and watercolor, gouache on photostats mounted on wove paper of a bound volume; Overall: 32.4 x 24.4 x 3.2 cm (12 3/4 x 9 5/8 x 1 1/4 in.); Gift of Daren Pierce; 1982-79-17-7
Dorn's bold patterns were complimented by the restrained use of color, with six different tones of white and cream, three blacks and various shades of beige, browns and grays were used as foundations for her designs.  Her creations were works of art, with reviewers announcing Dorn as one of the most important rug artists, 'whose rugs will undoubtedly be collectors pieces'.
In addition to the well publicized work she did for large companies in England, Dorn accepted many smaller commissions from architects and private clients, until her relocation back to New York in 1940 where she re-established her successful career as a freelance designer and collaborated closely with Edward Fields' rug company designing custom carpets, lasting into the early 1960s.  Her association with Fields would allow her the opportunity to design for important buildings, such as the lobby of the Waldorf Astoria, New York and, then the culmination of her career as a rug designer in America coming to in 1960 when she designed the carpet for the Diplomatic Reception Room of the White House, Washington, her final commission.
Explore our Custom Modern & 20th Century Carpet collection here for more designs.