February 19, 2018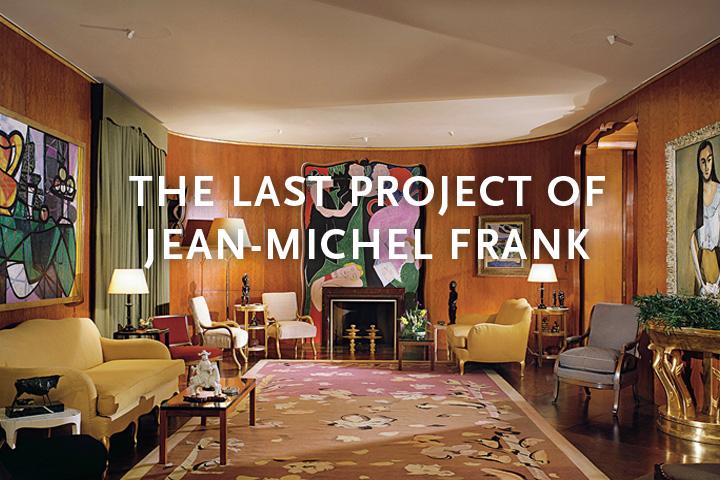 Nelson A. Rockefeller hired Jean-Michel Frank in the mid-1930s to decorate his newly renovated apartment in New York City. Famously located on 810 Fifth Avenue, it was a pre-war building from 1926 designed by architect Jer Carpenter. Jean-Michel Frank used pieces of his own designs as well as a variety of Louis XV style French furniture, and paintings by famous artists Matisse and Fernand Léger. To tie the room together, the French Modernist commissioned Christian "Bébé" Bérard to design a carpet.
Above: View of Rockefeller's salon designed by Jean-Michel Frank. Source: Pinterest, user Asmara Designer Rugs.
Above: A design sketch by Christian Bérard from the book "Jean-Michel Frank: The Strange and Subtle Luxury of the Parisian Haute-Monde in the Art Deco Period", Pierre-Emmanuel Martin-Vivier, Rizzoli, 2008.
Christian Bérard, known as a French illustrator and designer, has done fashion illustrations for Coco Chanel and Elsa Schiaparelli while also dabbling in set design, helping create the set of "La Belle et la Bête" in 1946 for Jean Cocteau amongst many other theatrical productions. He was known for his delicate use of line and tone, which is evident in the carpet design for Rockefeller.
Above: Side view of Rockefeller's salon. Source: Architectural Digest, article "Jean-Michel Frank, The prolific genius of Modernist French design".
The carpet would have floral motif done in an Expressionist style with pastels on a raspberry colored background which Bérard designed in gouache. The carpet was avant-garde and fit in nicely with the bold design of the Rockefeller's interior. It resembled vivid abstract tapestries with a nod to vintage floral designs. The color of the carpet was nicely chosen as it pairs well with the colorful paintings on the wall while being bold without overshadowing the rest of the room.
Above: Image of Rockefeller's salon designed by Jean-Michel Frank. Source: New York Times, Ezra Stoller/Esto/Courtesy of Rockefeller Foundation.
Jean-Michel Frank's style strays away from minimalism and neutrals, and tentatively plays with bold colors within interior designs. He also enjoys incorporating other artists' works or designs into his rooms as well as using vintage furniture in a modern way. Despite his successes in the art world, he committed suicide in 1941, shortly after decorating Rockefeller's apartment. Rockefeller's apartment is just one example of the influential and innovative work he has brought to the design world, and remains his last big project before his passing.