June 05, 2017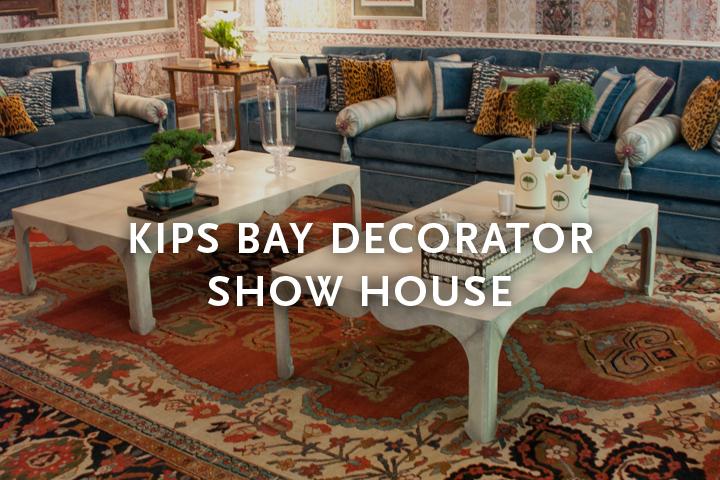 Carpets from FJ Hakimian featured in the 2017 Kips Bay Decorator Show House, on view through June 6
FJ Hakimian was the unequivocal go-to source for antique and hand woven carpets at this year's Kips Bay Decorator Show House. Inside the redbrick Georgian townhouse on the Upper East Side, five of the 18-total designers turned toward dealer Joseph Hakimian's expertise in hand-selecting rugs to go with each designer's theme. Vintage Swedish carpets and ornate French tapestries from the FJ Hakimian showroom on East 57th Street in Manhattan provide the thread that runs through these five rooms. 
Robert Stilin 
Room 9: Living Room
Photo: Robert Stilin and Stephen Kent Johnson
An Elle Décor top 25 designer for seven years running, New York City and Hamptons based
Robert Stilin
is known for effortlessly contrasting crisp interior spaces with the warmth and patina of antique and vintage furniture, and the luxuriousness of custom upholstery. A top-notch selection of contemporary art and photography elevates his refined spaces even further. The living room he designed for Kips Bay this year evokes contemporary European salons by setting an impressive collection of art, books, and objects against a backdrop of subtly textured Venetian Marmorino plaster. Sumptuous cashmere and alpaca fabrics compliment a handsomely graphic, navy, circa 1948 Swedish rug by Barbro Nilsson (
our collection # 03276
).
Joan Dineen 
Room 12: Master Bedroom
A vintage Rya rug from Sweden (
our collection # 03455
) takes center stage in the petite "fainting room" adjacent to the master bedroom designed by
Dineen Architecture + Design
. The aim of the Manhattan-based firm was to incorporate references to the terrazzo culture in Havana and to allude to the lush vegetation in photographer Sharon Core's recent work. "We like to see the rough and the refined rubbing elbows in our projects," says founding designer Joan Dineen. The shag texture and colorful leaf-like patterns of the vintage Swedish rug pull this off. Dineen continues, "Bright colors and nature-inspired imagery combined with a wild craziness of texture make everybody smile when they see it. This windowless room brings nature in on every surface, and this adorable rug adds extra zing."
Neal Beckstedt 
Studio Room 11: Attic Sitting Room 
Veteran Kips Bay Show House designer
Neal Beckstedt
envisioned a space that coupled raw and refined aesthetics and evoked an worldly jet set collector that would inhabit the place. In his Attic Sitting Room, high-gloss Farrow & Ball Oval Room walls and streamlined French and Scandinavian works by icons like Jean-Michel Frank, Frits Henningsen, and Jean Royère are softened by the natural fibers and calm palette of the vintage Swedish Rya by Marianne Richter, supplied by FJ Hakimian (
our collection # 03432
). A svelte custom curved sofa in rust-orange, which faces an amorphic black plastered fireplace, further drives the contrast home. It's no wonder he was deemed "One to Watch" by Architectural Digest.
Nick Olsen 
Room 13: Salon du Beau Monde 
Photo: Reid Rolls
The Salon du Beau Monde on the fourth floor by Columbia-educated architect and interior designer
Nick Olsen
is exactly what it sounds like: a space inspired by the French modernist salons of the 1930s and '40s. Olsen's references to the Parisian interiors of designer Jean Michel Frank and his once-clients Yves Saint Laurent and Pierre Bergé are stark. Wood grain wall veneers mimic the straw marquetry that was once a calling card of Frank's. Fashion illustrations by Christian Bérard are combined with a classical torso, an African mask, and an Art Deco lounge chair by Andre Sornay. Forming a backdrop to it all is an ornate pictorial tapestry by Jean Lurçat, a French artist who was pivotal in reviving contemporary tapestry. The circa-1940 work entitled Sonate et Claire de Lune (
our collection # 02565
) "brings harmony to the small salon by evoking the moody glamour of the gray mirrored vestibule in the entrance," points out Olsen. "The themes of music and moonlight and the curious creatures depicted against a black ground — an oversized cat luxuriating on a piano, for instance — reflect my imagined owner of this space: an eccentric American expat living in Paris who loves chintz, African art, Debussy piano sonatas, and much more. The Lurçat is his prized possession."
Richard Mishaan
Room 2: The Parlour Room 
Based on a strong belief that "what informs the soul and the mind is culture and travel," designer
Richard Mishaan
created a layered look in his Parlour Room that travels, both, the globe and time, incorporating textiles and an eclectic mix of objects from the turn of the 17th century through to the 21st. A historic wall covering by Iksel in London based off of the hand-painted, wood paneled reception room in the stately Beit Wakil mansion in Syria contrasts with hand-loomed silk brocades from the Bevilacqua family of Venice and animal prints in silk velvet. Grounding the rich combination of textiles is a stunning, oversized Persian rug. Mishaan says of the spectacular piece, "The Serapi Persian rug, circa 1889 (
our collection # 05060
) from FJ Hakimian was hand woven in Iran, and only natural dyes were used as was customary then. The indigo border accentuated with floral bouquets creates a wonderful contrast to the bold geometric pattern with the rust red center medallion. The scale of the design seems to be almost contemporary and of today."
---
---
FJ Hakimian is the leading resource for custom, modern, vintage and antique carpets and textiles. Headquartered in New York City, FJ Hakimian connects weavers, textile artists, interior designers and architects throughout the world on a common thread that is the passion for quality hand-woven carpets, mats and textiles. 
Come visit us at  145 East 57th Street 2nd Floor NYC or stay connected via social media: