December 05, 2019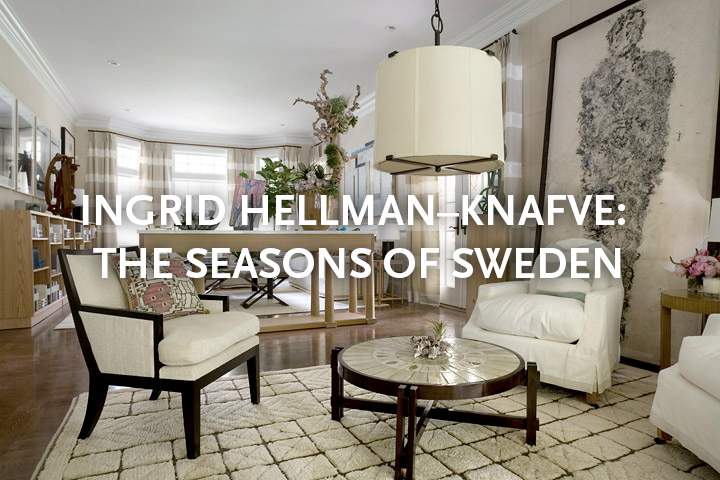 Hampton Designer Showhouse 2010. Interior design by Patrik Lönn
The sophisticated designs of Ingrid Hellman-Knafve (1906-2003) combine a subtle sense of nature-inspired color and abstract, geometric patterns. For most of her life Hallman-Knafve lived in rural Sweden and her carpets seem to reflect a highly tuned sensitivity to the changing seasons in Sweden's beautiful coastal and forest landscapes. 
Ingrid Hellman-Knafve was born the daughter of a schoolteacher in Örby, Sweden, in 1906. She studied weaving and design at Maria Nordenfeldt's workshops in Gothenburg, graduating in 1933. After a decade of weaving at her home studio in Kinna, her professional breakthrough came in 1944 with an exhibition at the renowned design firm Svenskt Tenn. She would go on to produce carpets for the firm for nearly twenty years.
In her most productive years post-World War II she worked on many interior design projects, including several with architect and designer Otto Schultz, as well as exhibiting in Copenhagen and Zurich. She furthered her design training while living in Paris from 1951-1952, and later in her career she designed works for official Swedish government residences. 
Swedish Pile Rug #03428. 17'7" x 10'10" (536 x 330 cm)
Swedish Pile & Flat Weave Rug #03285. Sweden ca. 1965. 10'5" x 7'10" (318 x 239 cm)
Many of Hellman-Knafve carpets have a graceful and understated quality. Some use an elegant combination of monochrome fields with a relief-flossa technique, in which the design is achieved with areas of pile bordered by narrow flat-woven areas. These two examples are a lustrous carpet of beautiful summertime coastal blue and another in a winter white, from her productive mid-century years. In both works she uses her favorite geometric forms, the square and the chevron.
Swedish Relief Flossa Rug #03298. Sweden ca. 1950. 8'8" x 6'4" (264 x 193 cm)
Swedish Wall Hanging #02766. 6'8" x 4'8" (203 x 142 cm)
Another relief-flossa in an austere wintery palette is a composition of boxes containing squares and chevrons. It is both an elegant abstract work and an evocation of a wintery field as seen from above. Another in a faint grey white has rows of diamonds and zigzag lines similarly expressing a refined sense of nature and color.
"BOMMA PA HARE" Swedish Flat Weave Rug #22091. Sweden ca. 1950. 10'10" x 8'0" (330 x 244 cm)
Swedish Flat Weave Rug #02815. Sweden ca. 1950. 7'4" x 5'9" (224 x 175 cm)
Ingrid Hellman-Knafve is also known for her sensitive use of the color green. In several of her carpets we see a reverence for the vernal hue, so bright and lovely after the long and somber winters of the north. One work in the FJ Hakimian Collection uses two tones of green along with a spring yellow in a geometric all-over lattice field. This abstract work expresses the dawning force of spring and would add an optimistic note and refreshing foundation to an interior. In her Vårvinter carpet, a word which in Swedish means "early spring," Hellman-Knafve uses the colors that are craved after the depravations of winter: a sap green with the blue of spring skies and the almost miraculous lilac and pink of anticipated blossoms. 
"GUL RUTA" Swedish Flat Weave Rug #22050. Sweden ca. 1950-1960. 9'8" x 2'10" (295 x 86 cm)
Swedish Flat Weave Rug #02794. Sweden ca. 1940-1950. 8'5" x 6'0" (257 x 183 cm) 
In another rug, Gul Ruta or "Yellow Box," she weaves together a harmony of yellows that seem to reflect the order and clarity of the autumn sun. In a vital and colorful flat weave, she creates a vibrant patchwork that may have been inspired by the aesthetic of Finnish rag rugs that were made during the war years, when shortages of weaving materials required ingenuity from textile artists. 
Swedish Wall Hanging #02766. Interior design by Foley & Cox