September 03, 2019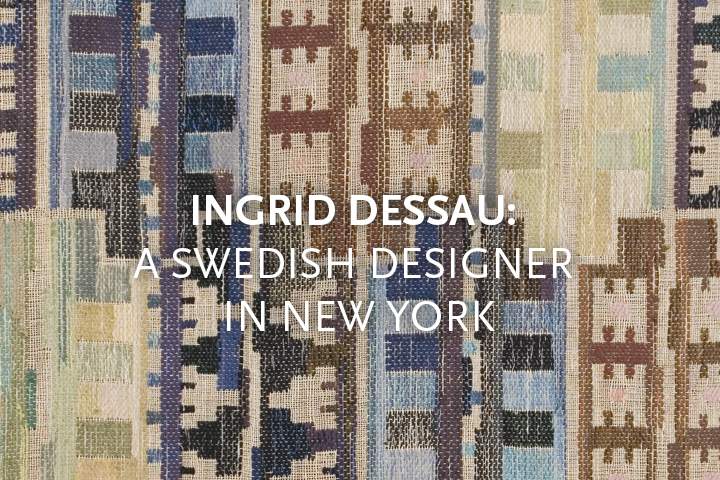 The FJ Hakimian Collection has four carpets by the mid-twentieth century Swedish textile designer Ingrid Dessau. All of these works are sophisticated compositions by an artist with an exceptionally refined sense of color and design. Ingrid Dessau (née Peterson, 1923–2000) was a master of her craft whose works are beautiful expressions of a type of sophisticated modernism rooted in Swedish traditions.
One carpet in the collection is an energetic composition of checkerboards within checkerboards in a tonal harmony of blues and browns. It the center of the carpet is a clever design element: a single box of undyed wool in light neutral tones that adds an unusual focal point for the eye to rest on within the central compartment. 
FJ Hakimian Swedish Flat Weave Rug #22075.  9'4" x 6'0" (284 x 183 cm)
Another abstract work in the Collection has gorgeous and unusual colors. It is composed in a dynamic diagonal line pattern, like an enlarged chevron or diagonal cross, with sophisticated browns and reds shifting to bright red and orange tones at the border. A narrow inner border in a subtle stripe of light neutrals breaks up the pattern and adds wonderful interest and movement. 
FJ Hakimian Swedish Flat Weave Rug #22120. Sweden ca. 1950. 7'10" x 5'11" (239 x 180 cm)
One flat woven carpet with a central field in a cream and yellow lattice pattern is surrounded by rows of flower heads. This work evokes the cheerful Swedish summer, full of sun and pure light, and would be wonderful in a country house or a sunny urban interior.
FJ Hakimian Swedish Flat Weave Rug #22115. 6'1" x 3'11" (185 x 119 cm)
Dessau was born in Svalöv, Sweden, a region known for its Skåne handicraft tradition, at a time when a previous generation of female artists had established Sweden as a center for innovative textile arts. She studied at the most illustrious centers of textile arts in Sweden. At age seventeen, young Ingrid Peterson entered the Konstfack, or University of Arts, Crafts and Design, in Stockholm, where she studied weaving and composition and mastered loom pattern-weaving and tapestry techniques. She then worked on an archival project documenting folk textiles in watercolor paintings for the Kristiandstad County Handicraft Association. Her education was rounded out with an internship under the great textile pioneer Barbro Nilsson at the renowned and trailblazing Märta Måås-Fjetterström's workshop in Båstad. It is hard to imagine more solid foundations on which to begin a career in textiles. 
In the late 1940s she won travel scholarships to study folk crafts in the Americas; this was when she met and married the Danish entrepreneur Kaj Dessau, who was working as the director of Georg Jensen in New York City. She settled in New York with him. It seems that New York City had a beneficial effect on her as well as her husband, since she soon entered a period of intense productivity. Her professional breakthrough came in 1953 with her show at Galleri Moderne in Stockholm, and her most famous work, now on display at the National Museum of Sweden, is the 1953 tapestry Manhattan. This woven invocation of New York City at night is composed of a double row of skyscrapers with illuminated windows. It hangs in the same gallery as another work by an exile from Stockholm in New York City, the wonderful Manhattan textile by Josef Frank.
Wall Hanging Manhattan by Ingrid Dessau. Sweden ca. 1953. Nationalmuseum, Sweden. © Bildupphovsrätt i Sverige.
Dessau's background gave her much to draw on for her designs and she was clearly inspired by the colors and patterns of nature. However, Manhattan in the 1940s and 1950s seemed to have an extraordinary effect on her creativity. Some of her most famous works evoke the city grid, the skyscrapers, and the exciting rhythm of the urban space. All of the works in the FJ Hakimian Collection come from this period as well, and the dynamism of New York City must have contributed something to the energy of these compositions. 
Swedish Wall Hanging #22168. Sweden ca. 1940-50. 7'6" x 4'10" (229 x 147 cm). 
A wall hanging in the Collection has a repeating geometry similar to that of the Manhattan tapestry in the National Museum: a grid that evokes the urban space in sophisticated color. It is a pattern she used both horizontally and vertically and in different colorways. Here it is woven on a fine linen warp and it is an excellent example of her great color sense, with subtle and shifting tones of light and dark that are far more varied on close inspection and provide great visual interest.