April 18, 2018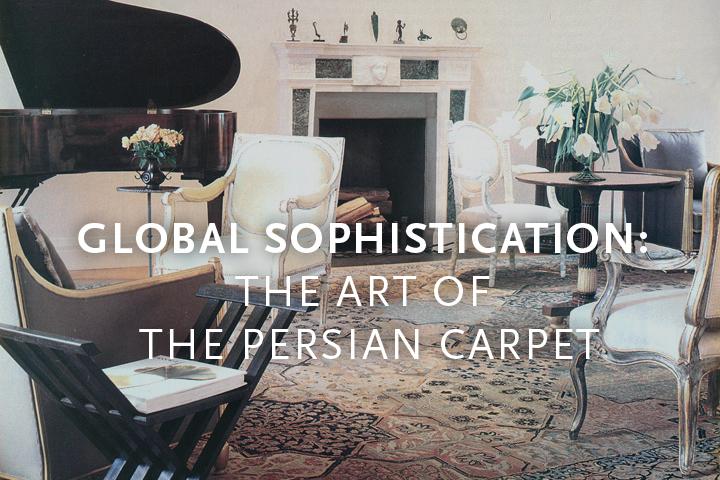 Above Image: Persian Tabriz Rug.  20'0" x 14'3". FJ Hakimian Collection # 99289
Whether bold and complex, or subtle and graceful, Persian carpets have for centuries been regarded as the crowning achievement of the textile arts.

While a traditional art, Persian carpets work in harmony with the eclectic sensibility of today's most sophisticated designers who understand the level of quality that can only be achieved in the slow processes of the master craftsman. From the slowness of the dye process, to the subtlety of refined and balanced designs, these works have an aura and materiality that is an antidote to a mass-produced world and the flattened space of the technological age.
These beautiful weavings can add a layer of history, beauty, and sophisticated to a range of 21st century room designs; they can adapt as easily to an English country house as they can to the subtleties of a Modernist design idiom.
Persian Polonaise Rug, 1620. 13'5" x 5'8". FJ Hakimian Collection # 99121


The FJ Hakimian collection has a large offering of carpets from the two great Renaissances of Persian carpet weaving: those from the classical period of the 16th and 17th century, as well as carpets from the weaving revival of the 19thcentury. The collection includes classical Isfahans in bold colors and intricate designs, and a rare seventeenth century silk Polonaise carpet. 
Polonaise carpets are distinctive for combining Islamic motifs with European influences: the palette of these carpets is a harmonious combination of the soft pastel shades that were so popular in baroque Europe and simplified floral vinery and arabesques. Many of these carpets were originally made as diplomatic gifts and this is why most extant examples are to be found in royal collections, museums, and important old noble collections of Europe. There are fewer than three hundred known examples.
Persian Bakshaish Rug, 1850. 18'9" x 11'3". FJ Hakimian Collection # 05068

 
FJ Hakimian's many carpets from the second Renaissance of carpet weaving are examples of the extraordinary production that was created in response to an increased interest in woven arts, by sophisticated consumers in both West and East.
 
These 19th century carpets extend the rich tradition of the past while incorporating a new global sensibility that drew on influences from all over the world including designs from Persian court carpets, European decorative arts, Mughal textiles, and Chinese silk.
 
Carpets in the Hakimian collection include fine examples of Garden carpets that gracefully evoke Persian gardens and the extraordinary and ancient history of Persia. Garden carpets are perhaps the most beloved of all carpet designs, as they elegantly bring lush gardens of the East inside and for all seasons. 
Persian Tabriz Rug, 1910.  11'9" x 9'6". FJ Hakimian Collection # 07049
Other 19th century carpets include a carpet with majestic cloud-band border and gorgeous and rare ivory field is a bold and arresting work.
Graceful, refined and balanced Tabriz carpets that were originally woven for cosmopolitan 19th century city-dwellers still harmonize with 21st century urban life and urban spaces.
 
Persian Tabriz Rug.  20'6" x 14'8". FJ Hakimian Collection # 07125
Persian Tabriz Rug.  17'5" x 11'6". FJ Hakimian Collection # 07131

Sultanabad carpets with extraordinary graphic and chromatic balance are as sought-after today as they were when first woven. These carpets are the extraordinary work of skilled artisans who were able to almost magically create oases of stillness and beauty from wool and dye, an accomplishment whose value only increases with time.   
Persian Ziegler Sultanabad Rug, 1890. 16'8" x 11'8". FJ Hakimian Collection # 06099
---
FJ Hakimian is the leading resource for custom, modern, vintage and antique carpets and textiles. Headquartered in New York City, FJ Hakimian connects weavers, textile artists, interior designers and architects throughout the world on a common thread that is the passion for quality hand-woven carpets, mats and textiles. 
Come visit us at  145 East 57th Street 2nd Floor NYC or stay connected via social media:
Follow our company page on LinkedIn for upcoming articles.
Follow us on Pinterest; Instagram; FaceBook; Twitter.
Please contact fjh@fjhakimian.com for any questions.