December 10, 2018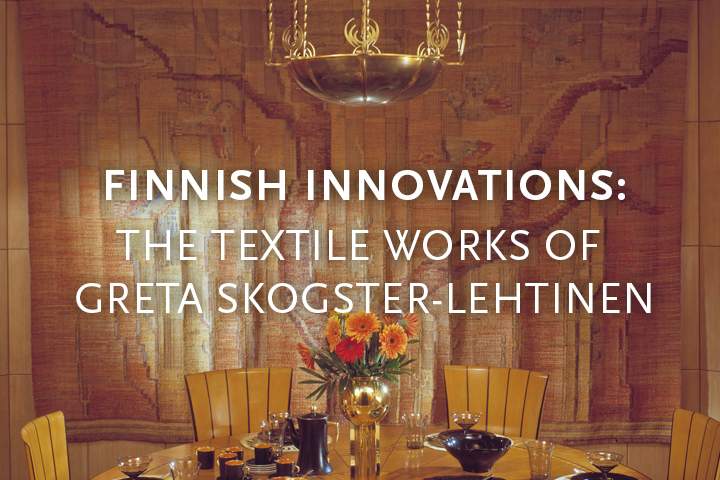 Saarinen House dining room, with Gefle dinnerware, Orrefors glassware, and Eero Saarinen placemats. Wall Hanging: Landscape with Tree and Birds designed and woven by Greta Skogster between 1935 and 1939. Photo by Balthazar Korab, © Cranbrook Art Museum.
Greta Skogster-Lehtinen was ahead of her time both as a pioneer of Finnish textile art and as an entrepreneur. Her textile designs are full of warmth and strength; earthy and crafted of vernacular materials, they evoke the natural world of the ancient Finnish landscape in a dynamic and modern visual language.
As a young woman born into a noble family she began her training at age of fifteen, studying drawing at the Helsinki School of Art and Design. After graduation she traveled throughout North Africa and Europe, and it was during a visit to the renowned Gobelins tapestry factory in Paris that she found her calling. Upon her return to Finland she enrolled in Fredrika Wetterhoff's School of Arts and Crafts to study textile design.
FJ Hakimian Finnish Flat Weave Rug by Greta Skogster-Lehtinen #02852. 15'4" x 9'1" (467 x 277 cm).
At the age of twenty-one she started her own weaving company in Hameenlinna, a city centered on a medieval castle and set among the beautiful horizontal landscape of Finland, which would serve as inspiration throughout her career. Skogster-Lehtinen was soon internationally renowned as one of Finland's leading textile artists and innovators. She won the Grand Prix at the Exposition Universale in Paris in both 1925 and 1937, a gold medal at the Milan Triennial in 1933, and another at the Exposition Internationale in Brussels in 1935. 
The FJ Hakimian collection includes three carpets from the late 1920s and early 1930s, which was her most productive period, including the subtle and refined Hilkka, and a colorful and exuberant flatweave from 1932/1933.
FJ Hakimian "Harmaa Linna" or "Hilkka" Finnish Flat Weave Rug by Greta Skogster-Lehtinen #22110. 
Finland ca. 1930. 11'4" x 8'2" (345 x 249 cm)
She moved her workshop to Helsinki in 1929, and after this time it was known as Textile Office. The company grew to be the largest private weaving workshop in the country during the interwar period. The artist's most famous work was made at the height of the material shortages of World War II: her famous birch wallpaper from 1942, a beautiful and simple work of woven stripes of birch bark, paper, and string. Like her carpet and textile designs, it was daringly abstract for its time and anticipated the modes and methods of the textile arts of the later twentieth century in its authenticity and innovation. 
FJ Hakimian Finnish Flat Weave Rug by Greta Skogster-Lehtinen #02748. Finland ca. 1932-1933. 26'7" x 14'8" (810 x 447 cm)
She also designed works for Finland's most important public spaces, including the Parliament Building, Stock Bank, and national cathedral. She worked with many Finnish architects, particularly the Modern master Alvar Aalto, in creating harmonies between architecture and interior designs. One of her most beautiful works is a tapestry in the dining room of the Saarinen House at the Cranbrook Academy of Art. This house, an a Art Deco masterwork, it was the home of her fellow Finn, the architect Eliel Saarinen, Cranbrook's President and head of Architecture and his wife Loja, who served as the head of the weaving department. Each piece in this house was selected with extraordinary care to synthesize with the architecture. This tapestry, depicting the primal Finnish forest with branches and birds, shimmers in a rich palette of ochres, pale blues, and warm earth tones, harmonizes with the wood paneled walls of the room. These innovative weavings remain as vital and lovely today as when they there first woven nearly a century ago. 
FJ Hakimian Finnish Flat Weave Rug #22232. Finland ca. 1930. 11'2" x 8'3" (340 x 251 cm)
FJ Hakimian Finnish Flat Weave Rug #22215. Finland ca. 1930's. 13'0" x 9'7" (396 x 292 cm)