December 14, 2016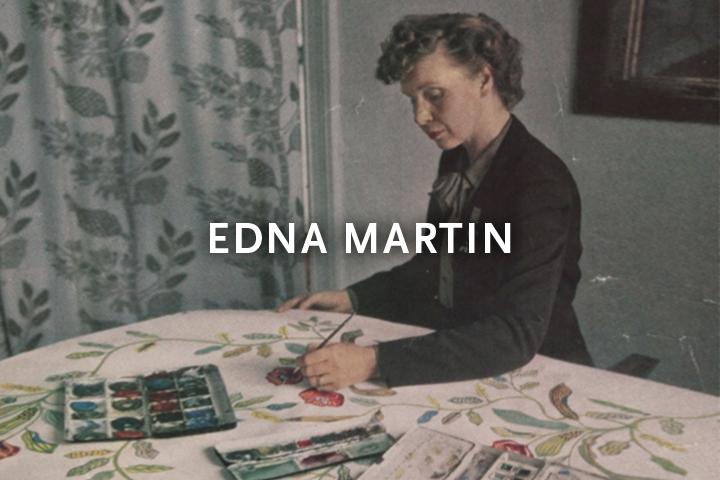 Edna Martin (1908-2003) was the leading designer and reformer of Swedish textile arts in the mid-twentieth century. With her extraordinary energy she headed all of Sweden's major textile institutions in the post-war years; her positions included being director from 1945 to 1951 of Svensk hemslöjd (an important textile organization founded in 1899 to promote craft in Sweden), the artistic director of Handarbetets Vänner (HV) or the Association of Friends of Textiles from 1951 to 1977,[1] and senior professor of art at the Royal College of Art from 1957 to 1969. Her beautiful, lyrical works and artistic philosophy added a complexity and new vigor to the already vital Swedish textile tradition.
Sweden,  ca. 1950. 18 ft. 3 in. x 12 ft. 1 in. Provenance: Dag Hammarskjöld private residence, NY
The works both expanded and renewed traditional art practices. Often monumental, her weavings embraced the expressive free-form style of international modernist design while drawing on native techniques and traditions, some dating back to the middle ages. Not all of her works were large: she also created small, intimate works, and she is well-known for charming cushion designs that can be found in the collections of the Victoria and Albert Museum and the Cooper Hewitt Smithsonian Design Museum. Her works have remained popular because they incorporate the often contrasting hallmarks of the mid-twentieth-century's golden age of Scandinavian design. Each is an example of a graceful simplicity of form, joy, and functionalism. They integrate the oppositions of primitive construction and sophisticated ideas, and Martin synthesizes the tactility and brilliant colors, so characteristic of Swedish design, with a singular expertise.
linen; H x W: 34 x 34 cm (13 3/8 x 13 3/8 in.); Cooper-Hewitt Smithsonian Design Museum;
Gift of Elizabeth Gordon; 1964-35-24
Martin understood that textile artists could work in harmony with industrial production rather than trying to compete with it. By understanding industrial modes, the textile artists led by Martin found a way to counterbalance the severe and sterile aspects of Modernism. Her beautiful, useful objects vividly and emotionally communicate the applied humanism of Scandinavian design. She did her own dyeing and used new materials—fisherman's nets, flags, bookbinder's silk—along with the luxurious, long-fibered wool that makes Scandinavian carpets so resilient. She occasionally incorporated words into her weavings; the graceful, delicate, lines incorporated international contemporary design ideas while at the same time emphasizing the charm of their primitive construction. Through the innovative use of materials and processes, the maker's hand is recorded in the weaving; the heightened tactility elevates and exalts the humanistic creative process.
The textile arts in Scandinavia had historically been a way for women to express themselves creatively and keep craft traditions alive. Due to the relatively late industrialization of the Nordic countries, craft practices and folk culture were preserved longer than in other European countries.[2] Swedish Modernism grew out of a vital political optimism and offered the artistic expression of a deeply democratic society. The foundational texts of early 20th century Swedish design discuss education and beauty as supreme ideals; these ideals were put into practice by Swedish textile arts pioneers such as Märta Måås-Fjetterström. There was a collective belief that art could be instrumental in the formation of a cohesive social fabric, an agent in a process whose purpose was to develop and disseminate human dignity and a just society.[3]  For these artists a beautiful, well-designed, functional object could make life better.
Perhaps Martin's most significant contribution to textile arts grew out of her deep understanding of how textiles could work in harmony with Modern architecture. Many of her commissions were made for public spaces, including the United Nations buildings in New York, and she intuitively understood how textiles arts could counterbalance elements of open-plan 20th-century architecture. With their monumentality and flexibility they could demarcate spaces as needed; their brilliant colors, so characteristic of Scandinavian design, could add harmonious energy to these light-filled rooms. The warmth and materiality of the wool contrasted with raw untreated surfaces of concrete and wood; the movement and dynamism contrasted with the heavy, stable architectural forms. Martin was a master at taking the textile arts to the limits of their potential and creating a new Modernist textile idiom with far-reaching artistic consequences.
Wall Hanging. Sweden. 6 ft. 11 in. x 4 ft. 4 in.
---
[1] Martin, Edna, Beate Sydhoff, and William Barrett. 1979. Svensk textilkonst: Swedish Textile Art. Stockholm: LiberFörlag.
[2] Martin, Edna, Beate Sydhoff, and William Barrett. 1979. Svensk textilkonst: Swedish textile art. Stockholm: LiberFörlag. [ibid, or difft page numbers?]
[3] Creagh, Lucy, and Helena Kåberg. 2008. Modern Swedish Design Theory: The Principle Texts. New York: Museum of Modern Art.