October 17, 2018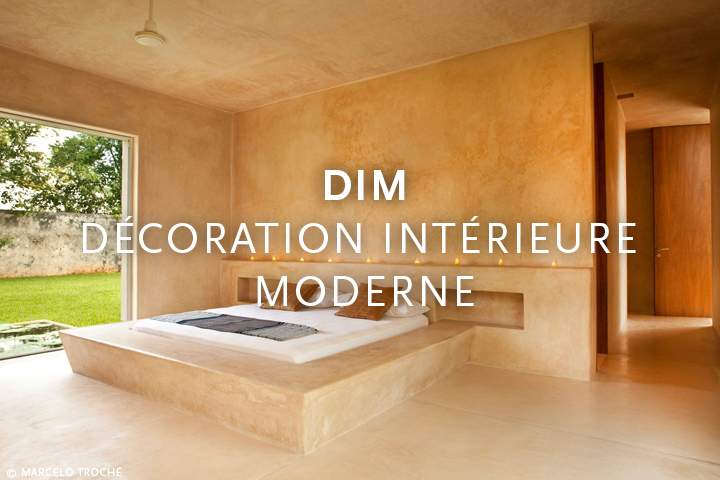 Acanceh, Mexico, 2010. Reyes Ríos + Larraín Arquitectos. © Marcelo Troché
 
"Décoration Intérieure Moderne" was founded just after World War I by Joubert and Mouveau with the objective of designing and manufacturing furniture and decorations.  Individually or together, René Joubert, both an architect and a cabinetmaker, Georges Mouveau, a stage designer, and, starting in 1924, Philippe Petit produced standard "DIM" furniture.  The pieces, in oak or walnut, are noted for their clean lines, plain style and sturdy look.  In the first five years of production, they also designed "gondole" chairs, similar to Ruhlman's.  The decoration work consists mainly of thin sculpted friezes representing fruits and stylised flowers and wrought iron work.
Aside from the standard design, Joubert and Mouveau, or Joubert and Petit, also produced more intricate furniture made of veneered exotic or indigenous woods which are used either for their spectacular veining as Léon Jallet did, or as part of inlaid work.  With no, or very little decoration, DIM furniture is characterized by its solid appearance.  Often wider than taller, the pieces are generally without cornices and sit on a base.  A tray often sets back on top.  Finally, a series of furniture - wardrobes, bookshelves, trunks, sideboards - is distinguished by an original three part set up with the middle part either set back or set forward from the others.  Some models have glass doors, drawers or shelves.  Chairs are characterized by their large size and round "gondole" shape.  Some, however, have cut off corners.  Ivory inlay usually provides the ornamentation.  Overall, the models make very little reference to traditional styles.
FJ Hakimian Art Deco Frech Aubusson Carpet. #02620.
12'4" x 10'6" (376 x 320 cm).
Signed "DIM" (Décoration Intérieure Moderne), attributed to Rene Joubert.
In 1925, at the Decorative Arts Exhibition, DIM had its own open-air stall on the famous Alexander III bridge.  The same year, DIM successfully completed a dining room for the French Embassy.  First located at 19 place de la Madeleine , in 1925, DIM opened a new store at 40 rue du Colisés.  In addition to furniture they began producing accessories such as lamps, mirrors, decorative objects, carpets (some of which are inspired by Follot's projects.  One was acquired by the government for the Musée Rodin) and even aircraft interiors.  In 1929 at the 19th century "Artistes Décorateurs" show, DIM presented an original crystal dressing table by Joubert and Petit.  Its bold style indicated an important change, confirmed by a new line of metallic and wooden furniture characterized by a very "strict" style and a total absence of decoration (some pieces appeared on the famous cruise line "Atlantique").  Some models are produced in limited numbers (5 to 6 pieces) while remaining affordable to a large variety of clients.  The death of René Joubert in 1931 and the retirement of Philippe Petit that same year, did not put an end to production.  DIM work continued to appear in the forties.
FJ Hakimian Art Deco Frech Aubusson Carpet. #02621. 10'7" x 9'0" (323 x 275 cm).
Signed "DIM" (Décoration Intérieure Moderne), attributed to Rene Joubert.