October 14, 2015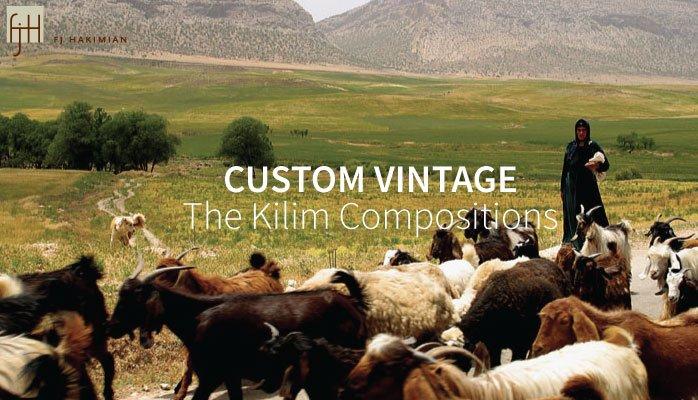 F.J. Hakimian's Vintage Kilim collection of carpets is one of the most unique and inventive examples of antiques meeting contemporary design. This carpet collection incorporates rare weavings from Persia and Turkey, circa 1940.
For two years, I acquired an extraordinary reserve of hand-woven panels that were traditionally crafted by the daughters of nomadic tribes that populated the mountainous, northern region of Persia. Young women would weave the panels for their dowries. After marriage, they used the woven segments to embellish their tents.  
These flatweave panels, which measure one to two feet wide and up to 80 feet long, are made of un-dyed wool and feature a natural palette of beige, camel, gray, and dark grown tones. Elegant and earthly, each is a one-of-a-kind creation that bears the distinct hand of its maker. While some panels are made of tightly woven, fine-gauge yarns, others utilize coarse fibers and loose weaves. Certain pieces appear to be monochromatic, while many have delicate striae effects or contrasting stripes reminiscent of natural wood grain. 
We don't know what kind of aesthetic intentions, if any, the young women might have had. The use of un-dyed wool, for example, might have been for economy's sake or to bring nature inside of their tents. Regardless, it is compelling to see how the creations of these unschooled, isolated nomads resonate with the concurrent decorative arts in Europe, such as the designs of Jean-Michel Frank.
With a renowned, in-house conservation department and an established custom design program in place, we restored and prepared these 60-year-old panels for use in contemporary carpet designs. 
Lined and backed for stability and strength, the lengthy, rectangular panels can be cut, combined, and finished to create rich, neutral fields or striking geometric patterns. Simple, luxurious, and remarkably modern ,these unique patchwork compositions have attracted the attention of preeminent interior designers such as Greg Jordan, Sills-Hunniford, Thad Hayes, Orlando Diaz-Azcuy, D.D. Allen, and Shamir Shah. 
Since the collection's public launch at the 2003 AOL/Time Warner and the Esquire Apartment Show Houses (shown above), the design community has bestowed great acclaim upon these unique carpets.  
The possibilities are very exciting. We have derived understated, tonal designs that are reminiscent of early 20th century Swedish carpets as well as Russian Art Deco textiles. The panels inherent variations allow tremendous versatility.  
Available only through F.J. Hakimian, these Vintage Kilim Compositions provide both natural beauty and a striking, yet subtle foundation for the best of today's interiors.
We look forward to collaborating with new generation of tastemakers to create distinctive custom carpets based on these exquisite, historic kilims. We also welcome you to our 57th street gallery for a private showing of our extensive library of the custom kilim designs.  
---
FJ Hakimian is the leading resource for modern, vintage and antique carpets and tapestries. Headquartered in New York City, FJ Hakimian connects weavers, textile artists, interior designers and architects throughout the world on a common thread that is the passion for quality hand-woven carpets, mats and textiles. 
Come visit us at  145 East 57th Street 2nd Floor NYC or stay connected via social media: