July 02, 2020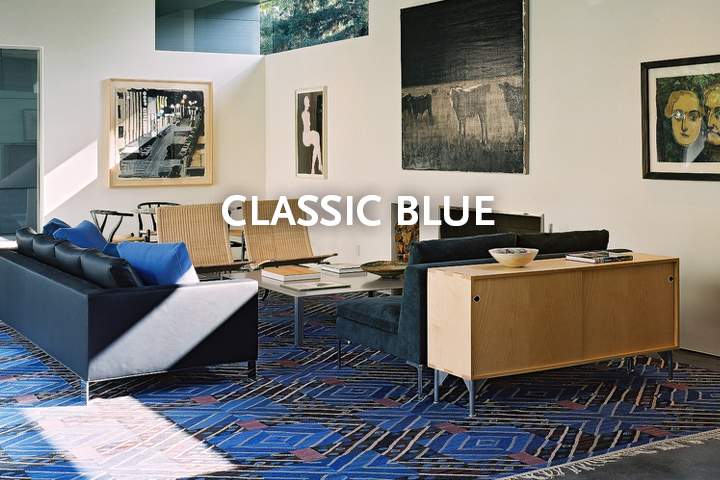 When surveyed, more than half of all people say that their favorite color is blue, so it is not surprising that this color remains a perennial classic in interior design. Evoking both the sea and the sky at twilight, it is a color that can add either drama or tranquility to an interior. Many designers consider it a pleasing alternative to more prevailing neutrals such as grey and beige. With all the uncertainty of 2020, it seems fitting that Pantone choose this reliable, reassuring shade, PANTONE 19-4052 Classic Blue, as their color of the year. 
Indian Agra Rug #09076. India ca. 1900. 15'8" x 10'1" (478 x 307 cm)
Swedish Flat Weave Rug #22075. 9'4" x 6'0" (284 x 183 cm)
Classic Blue is a color with sophisticated associations, including blue and white Chinese porcelain, lapis lazuli and sapphire, French medieval stained glass, the idyllic Mediterranean, as well as modern ideas of progress, enlightenment, and liberty as one of the colors of the French and American Revolutions. It is thought to be a spiritual color with the ability to increase intuition and clarity. Blue has been proven to increase concentration and foster resilience, and in some cultures it is thought to be protective. A beautiful way to incorporate Classic Blue into a room design is in a carpet. FJ Hakimian has a range of carpets in Classic Blue, which range from chic Scandinavian and French Art Deco to elegant Persian Tabriz and Sultanabads. 
Swedish Pile Rug #03276. Sweden ca. 1948. 10'0" x 7'2" (305 x 218 cm)
Swedish Flat Weave Rug #22179. Sweden ca.1950. 13'3" x 8'2" (404 x 249 cm)
Blue is a color that is often associated with Scandinavia, and it works beautifully in the pared-down modern interiors that the Nordic countries are famous for. These spellbinding mid-twentieth century carpets by Barbro Nilsson would make a great foundation for a room designed as a soothing, inspiring retreat far away from the complexities of modern life. 
Art Deco Savonnerie Rug #03382. France ca. 1925. 12'10" x 9'8" (391 x 295 cm)
Vintage Kilim Composition #23295. 14'7" x 10'11" (445 x 333 cm)
The design of this elegant French Savonnerie carpet uses a range of blues. With a strong and distinctive geometric composition, it is a wonderful example of the boldness of Art Deco, which translates so well into twenty-first-century interiors. It is also an example of a beautiful color palette: deep brown harmonizes beautifully with Classic Blue, as do shades of beige. Another example of this palette is our customizable vintage 1920s Persian kilim composition with a linear design that includes stripes of blue. 
Swedish Flat Weave Rug #02544. Sweden ca. 1945. 11'5" x 6'8" (348 x 203 cm)
Swedish Pile Rug #03391. Sweden ca. 1942. 10'6" x 8'0" (320 x 244 cm)
With their understated elegance, modern Swedish carpets can look effortless, but these examples were carefully designed by Sweden's most famous twentieth-century textile designer, Märta Måås-Fjetterström. Blå plump and Ståndaren, designed by the artist in 1937 and 1928, are both woven in wonderful palettes of mixed blues. The Blå Plump has a field of shimmering modern blue medallions on a light natural undyed wool ground, with contrasted small rust squares and narrow borders. This carpet shows how tones of orange, terracotta, or peach can make a lovely complement to blue, creating a calm energy. The Ståndaren carpet design was developed for the interior of a luxury ocean liner in the 1930s, and an example of it can be found in the Parliament House in Stockholm and in King Gustav VI Adolf's library in Ulriksdal Palace.
Ziegler Sultanabad Rug #06098. Persia ca. 1880. 13'10" x 9'9" (422 x 297 cm)
Tabriz Rug #07119. Persia ca. 1940. 12'11" x 9'10" (394 x 300 cm)
Classic Blue was associated with the East during the European Middle Ages. It was not until indigo was imported from the East and the Americas that this color was available as a dye in Western Europe. Before this time, a duller, lighter shade of blue derived from woad was the only blue available. The FJ Hakimian Collection has beguiling examples of Persian carpets with wonderful deep natural blue dyes. This Ziegler Sultanabad with a palmette and flowerhead design on an open ivory ground within a gorgeous wide Classic Blue border has a boldness that is sought out by designers looking to add an eclectic and worldly element to an interior. Another traditional Persian carpet is this Tabriz garden carpet, with its extraordinary quality from one of the oldest centers of weaving in Persia. This classic carpet has blue borders and details, and its dignified multitudes of flowers would bring the restful serenity of an Eastern garden indoors, even in the deepest winter months. 
Persian Flat Weave Rug #22121. Persia ca. 1720. 16'8" x 9'6" (508 x 290 cm).Double sided Persian embroidered flat-weave carpet