November 28, 2018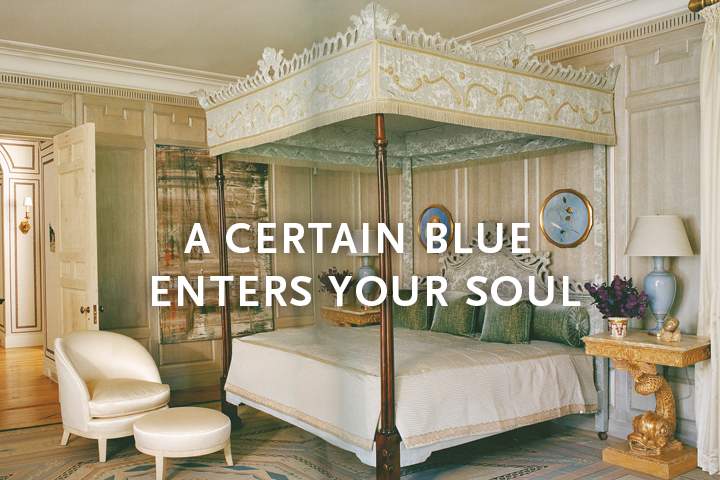 Set against rubbed silver-leaf panel walls, icy blues and soft gold dress an 18th c. tester bed, in a room designed by Stephen Sills. A French Aubusson Directoire style carpet, c. 1900, from FJ Hakimian picks up those colors in slightly deeper shades, while a painting by Gerhard Richter adds an interesting tension to this subtle, elegant space. Art Deco chair by Andre Groult. Photograph: François Halard from Stephen Sills: Decoration, © Rizzoli, 2013.
Henri Matisse, whose quote above captures the magic and mystery of blue, speaks for all who adore this color. But although blue seems intrinsic to art and design, you may be surprised to know that for millennia this color didn't, in a sense, exist. Although two of Earth's most prominent features—the oceans and the sky—are blue, the world's earliest texts, from any culture, make no reference to the color. Humanity's earliest artworks are in black, white and red. Yellow and green were gradually added, but blue only came along thousands of years later. 
FJ Hakimian Custom Cuenca Carpet
There have been various theories for why this void in the color palette persisted, but the current interpretation is that blue, being relatively rare in nature, meant the earliest humans just didn't care about it. After all, there are few blue fruits, plants or animals; water can look green or brown or black and still be drinkable; and the color of the sky is changeable. So, to our earliest ancestors, blue was simply not significant enough to name or to notice.
FJ Hakimian Bessarabian Carpet #02692. Russia ca. 1830. 13'4" x 11'9" (406 x 358 cm)
It's thanks to the Egyptians that "blue" began to be a word and a color. They began importing lapis lazuli from the mountains of Afghanistan and tried desperately, for hundreds of years, to transform the brilliant blue stone into a pigment that could be used in art and on textiles. But those failed attempts with lapis lazuli eventually resulted in a different blue, made of instead of limestone mixed with sand and a copper-containing mineral, such azurite or malachite. This was then heated to become glass, which was then crushed and combined with a thickening agent to create a durable paint or glaze. Known as Egyptian Blue, this color became famous throughout the ancient world.
FJ Hakimian Tabriz Carpet #07153. Persia ca. 1920.  17'0" x 11'2" (518 x 340 cm)
The recipe for Egyptian Blue was eventually lost, so in Europe, beginning with the Roman era, blue pigment came from woad, using a tricky and complicated process that further enhanced the perception of blue as a rare and unique color. The vocabulary of "blue" began to expand over the centuries, as royalty, the church, and artists used precious blue pigments to convey worth, holiness, purity, nobility, and other desirable characteristics.
FJ Hakimian Persian Double sided Carpet #22121. Persia ca. 1920. 16'8" x 9'6" (508 x 290 cm)
Since the introduction of Egyptian Blue, nearly 6,000 years ago, blue has remained a favored color. Cerulean was Pantone's first-ever color of the year pick, back in 1999. "Psychologically, gazing at a blue sky brings a sense of peace and tranquillity to the human spirit," said Leatrice Eiseman, executive director of the Pantone Color Institute. "Cerulean, or sky blue is imprinted in our psyches as a relaxing, quiescent color." A slightly different pale blue, Serenity, was Pantone's color of the year in 2016.
FJ Hakimian Swedish Flat Weave Carpet by Edna Martin #22119. Sweden ca. 1950. 11'11" x 9'1" (363 x 277 cm)
FJ Hakimian Finnish Flat Weave Carpet by Greta Skogster #02852. Finland. 15'4" x 9'1" (467 x 277 cm)
These clean, sea-and-sky blues are regarded almost as neutrals, and like neutrals these blues are amazingly adaptable and easy to work with, providing a tranquil, elegant foundation for any interior. "Blue has no dimensions. It is beyond dimensions," said Yves Klein, the French artist, who trademarked his own blue. And it's that ability of blue, more than any other color, to transport us from the mundane into the extraordinary.
FJ Hakimian Custom Mohair Carpet. 
FJ Hakimian Custom Mohair Sardinian Carpet. Mohair from South Africa. Made in Sardinia.