March 10, 2021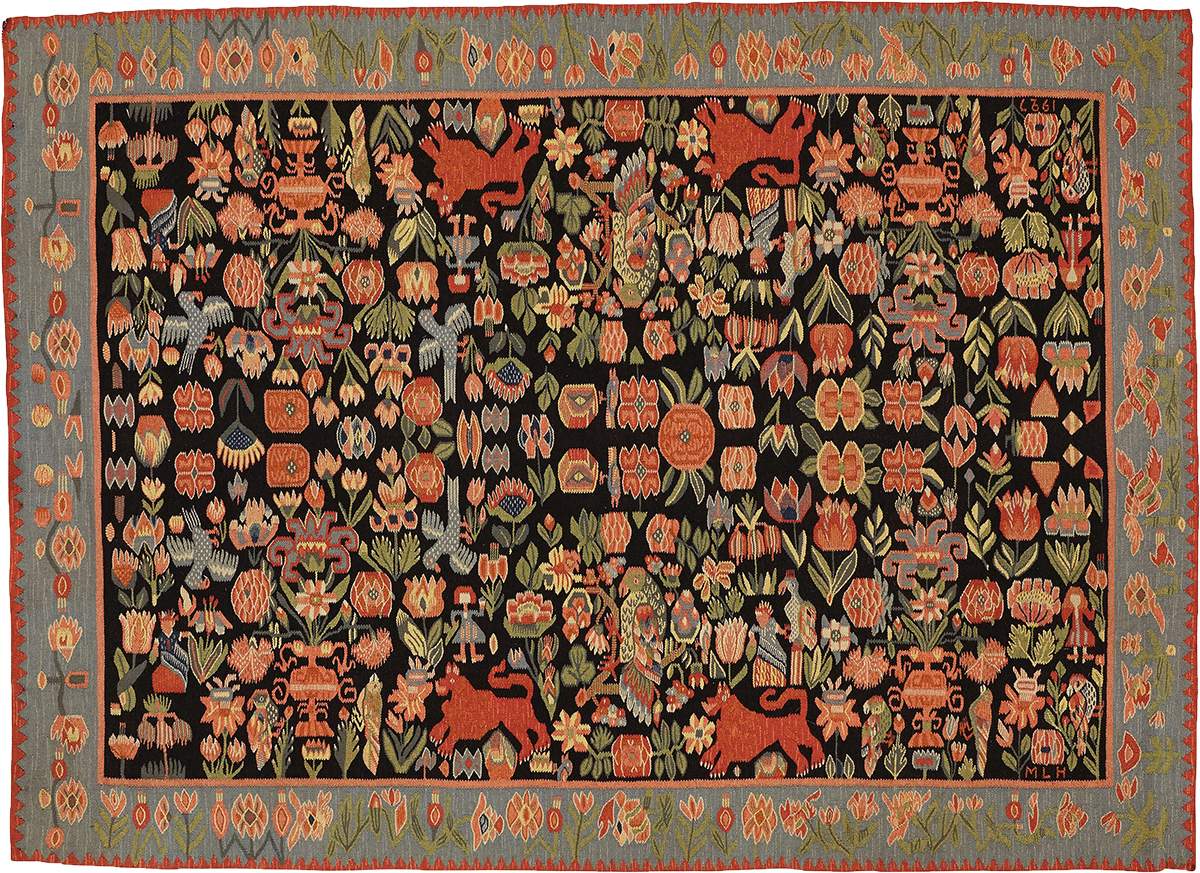 Swedish Wall Hanging #22255. Sweden ca. 1927. 6'5" x 4'8" (196 x 142 cm)
Floral patterns have been a leading trend in interior design in the last few years. Whether on walls, upholstery, or underfoot, blossoms look wonderfully fresh and optimistic. Floral and botanic patterns, be they large and bold, or small and delicate, radiate positivity and bring the natural world inside. The FJ Hakimian Collection includes a large variety of antique, vintage, and custom floral-patterned carpets, all of which can provide inspiration and a focal point around which a room can be designed. 
From indigos to romantic blossoming reds, soothing sylvan greens, and optimistic yellows, each beautifully made carpet has a fascinating history behind it. In the world of antique carpets and textiles, flowers have never gone out of style. Floral patterns are almost as old as ornamentation itself. Beginning with the lotus motif in the art of ancient Egypt, flower designs have decorated objects in all the great artistic cultures of the world. 
Custom Wiener Werkstatte Carpet
Many ancient patterns have been perennially loved for their natural charm. The patterns have been easily transferred and translated between cultures, and some remain popular even into the twenty-first century. For example, the ancient vine-scroll and flowering shrub patterns of the Near East were diffused throughout the Mediterranean world and then adopted by the ancient Greeks. These classic patterns have been used as decorative inspiration for thousands of years and can be seen in many of the beautiful fields and borders of eighteenth through twentieth century carpets. 
Other popular Greek floral motifs include wreaths, garlands, and cornucopia that are often incorporated into carpet designs. Similarly, in the East, floral patterns with ancient origins have remained popular over millennia. In China, flowers often have symbolic meanings, for example peonies are symbolic of good fortune, lotus blossoms have religious connotations, and chrysanthemums are the flower of autumn. 
Agra Rug #09076. India ca. 1900. 15'8" x 10'1" (478 x 307 cm)
The first floral carpets were woven in India during the sixteenth century when the Mughal Emperor Akbar I (reigned 1556-1605) established court carpet weaving workshops at Agra. Indian carpets are known for their particularly beautiful coloration and patterns that often include floral lattice, vine-scroll, or millefleur designs. 
Art Deco Savonnerie Rug #03127. France ca. 1926. 9'7" x 6'8" (292 x 203 cm)
France is well-known for its beautiful floral textiles and carpets. In the medieval period lush tapestries in millefleurs (literally thousand flowers) and verdure patterns were popular. The history of French carpets begins in the seventeenth century when King Henry IV established a royal carpet factory at Savonnerie. Early carpets included flower motifs borrowed from Ottoman designs, while later carpets have Rococo and Neo-classical designs of garlands, laurel wreaths, rosettes, scrolling acanthus, and floral cornucopias. In the twentieth century the traditional carpet making craft was revitalized according to modern aesthetics, in such pieces as this beautiful and rare Deco floral carpet.
Tabriz Rug #07090. Persia ca. 1890. 21'0" x 14'9" (640 x 450 cm)
Floral Persian carpets have an ancient origin and they are particularly known for their elaborate floral designs that range from bold and glamorous, to feminine and delicate. Our Collection includes traditional designs from the major production centers of Tabriz, Khorassan, Kashan and Kerman. These classic designs, small and large, pair beautifully with contrasting patterns such as classic stripes and checks, together creating unique combinations.
"HJÄLTA" Swedish Wall Hanging #22103. Sweden ca. 1943. 6'7" x 4'10" (201 x 147 cm)
Twentieth century Scandinavian designers are well known for their exuberant, multi-colored, floral patterns. Several of our wall hangings display the Scandinavian weavers' tradition of honoring craft, innovation, and the aesthetics of fibers. In these works, a range of geometric and naturalistic flower patterns demonstrate the designer's extraordinary sensitivity to nature and sense of color.
These and many others, from a range of artistic cultures and eras, can work as vibrant and optimistic foundations that link a room design to the flourishing natural world. While each pattern is unique, they all share a capability to delight the eye, as these patterns have been doing for thousands of years.