October 28, 2021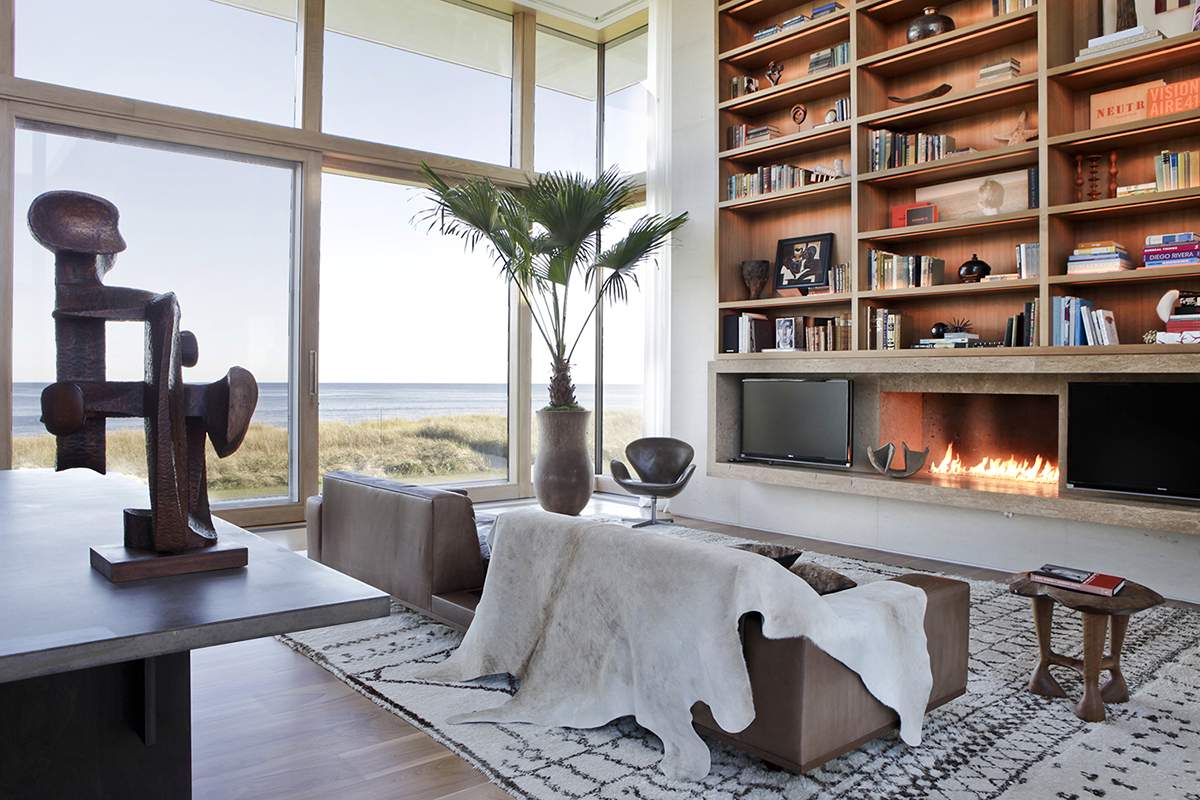 Interior design by Kelly Behun. Photography by William Waldron & Daniel Kukla.


Glamorous, earthy, mysterious, Moroccan carpets have been a favorite with interior designers since the early twentieth century. Perhaps it is the way that the exotic, geometrical designs simultaneously look ultra-modern and ancient, or how the luxurious wool and rich textures add warmth to an interior space. From Mies van der Rohe, and Marcel Breuer to Swiss painter Paul Klee, these carpets were loved by many of the twentieth century's masters of Modernism. Le Corbusier placed Moroccan carpets in the Villa la Roche in Paris in the 1920s, around the same time that Alvar Alto used them in the Villa Mairen, and just a decade later Frank Lloyd Wright added them to the interior of his masterpiece Falling Water.
Glaoua #15322. Morocco ca. 1950. 10'8" x 4'5" (325 x 135 cm)
Beni Ourain #15240. Morocco ca. Mid 20th Century. 9'10" x 6'0" (300 x 183 cm)
These masters of design, and many since, have appreciated the extraordinary aesthetic energy of these woven works. Moroccan carpets are primarily made by nomadic Berber, or Amazigh, women of the Maghrib, who are descendants of the pre-Arabian inhabitants of North Africa. This region of North Africa is at the confluence of several African, the Middle Eastern, and European cultures, and the motifs that are found in the designs are drawn from diverse traditions. The artists create striking new hybrid forms by using a visual system that borrows symbols and motifs from sources as diverse as Neolithic painting, Sumerian writing, Persian mysticism, Christianity, and letters from the Amazigh alphabet.
Zaiane #15427. Morocco ca. 1940. 19'0" x 3'1" (579 x 94 cm)
Beni Ourain #15250. Morocco ca. Mid 20th Century. 11'5" x 6'0" (348 x 183 cm)
Some of the most recognizable carpets of Morocco are those woven by the Beni Ourain, a tribe who have inhabited the High Atlas Mountains since the 9th century. These rugs are instantly recognizable for their minimal black and cream palette, and the distinctive thick wool pile that comes from an ancient breed of sheep. The carpets have unique, free-form, open designs that are woven by the tribal women, who, rather than following predetermined patterns, make improvisations and experiments in their compositions.
Beni Ourain #15178. Morocco ca. 20th Century. 13'3" x 6'6" (404 x 198 cm)
The art of North Africa is known for its mystical and magical qualities. The designs of Moroccan art can be found in pottery, wood carvings, leather work, jewelry, amulets, tattoos, and of course carpets. The designs, in addition to being interesting to the eye, are often talismans that defend against negative energy. Furthermore, rug designs are often spiritual, feminine, and tell stories with autobiographical details about weaver. Many Beni Ourain carpets have an overall diamond lattice pattern, this, like other geometrical patterns, can be seen as a woven expression of divine unity. The crisscross is regarded as a symbol of peace and harmony. Other popular symbols include stylized and geometrical frogs that represent fertility and magic, or simple geometric cross-shaped birds that are thought to hold baraka, or blessings. A geometrical lion's paw might be woven into a design for strength and protection, or the hand of Fatima, which offers protection from the evil eye, can be simply represented by the number five. The sun is represented by circles and can evoke eternity, continuous renewal, purity, clarity, and divine glory. Triangles indicate individuals, the rhombus is a feminine form, the ever-popular pomegranate is both a symbol of fertility, and a benediction.
Beni Ourain #15194. Morocco. 13'2" x 10'1" (401 x 307 cm)
Berber #15007. Morocco ca. 1930. 8'7" x 5'11" (262 x 180 cm)
The FJ Hakimian Collection includes a large variety of rare and unusual Moroccan carpets. Many works in the collection diverge from the most recognizable classic patterns. These fiercely creative works, made using the marvelous symbolic language of Moroccan art, are both a joy to the eye and an intellectual provocation. The woven compositions almost dare the mind to create stories and interpretations of the symbols within the universe of the design. Even when far removed from the context in which they were made, the beguiling, healing, protective, and magical qualities of these carpets translate beautifully between cultures. Each unique woven expression offers an air of warmth, exotism, and mystery to an interior design.