November 23, 2015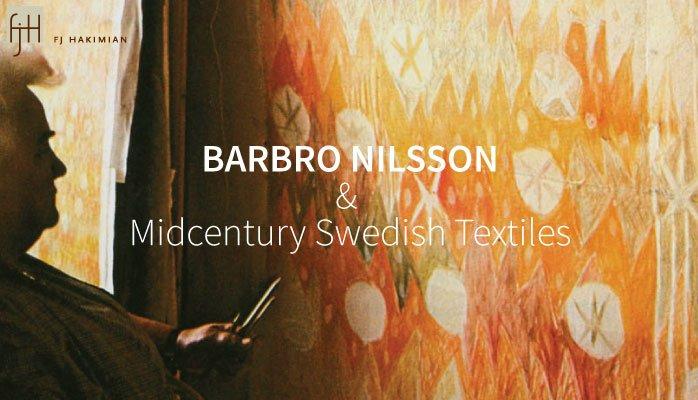 I have been dealing exclusively in hand-woven textiles for over forty years. In that time, what has developed into perhaps my life's most enduring interest is Swedish textile design. 
To me, traveling is one of the greatest sources of inspiration and success––it widens one's horizons and develops one's taste. And it was over 25 years ago that I encountered 20th century Swedish carpets for the first time, while on a trip to Stockholm. 
I saw my first carpet and I fell in love—I immediately bought it. When I brought it in and placed it on the gallery floor, I told myself that I could never sell it. It was so...graphic .
A few decades later, Scandinavian modernist aesthetics drastically rose in popularity. The bold, yet unfussy, Scandinavian textiles proved to work well alongside the modern art in many of our clients' environments.
One of the 20th century Swedish textile designers whose work I am very fond of in that regard is Barbro Nilsson (1899-1983). 
Barbro Nilsson is considered one of the most important contributors to the treasures of carpets and textile designs coming out of Märta Måås Fjaetterström during the early and mid 20th century. 
She trained as a textile artist and wove all of her own designs. From 1934-1947, Nilsson taught at Konstfack, Stockholm (University of College of Arts, Crafts and Design) and from 1947-1957 she was the head of the school's textile department. In 1942  Nilsson became the artistic director and chief designer at the Märta Måås-Fjetterström workshop where she continued in the tradition of high quality and craftsmanship. 
Her designs often feature an emphasis on color and subtle variations in hue that enliven her works. Her early pieces clearly show the influence of traditional Swedish decorative art elements and the country's folk heritage. In the 1960's, however, she made a bold transition into Modern design. Here are some examples of Barbro Nilsson's designs in FJ Hakimian's Antique & Vintage Collection.
(See details of the above carpets and other works by Barbro Nilsson here.)
Recently, we had the great pleasure of placing Barbro Nilsson's carpets and other important 20th century Swedish textiles in a residential project led by Ike Kligerman Barkley, one of the country's preeminent architecture firms. The project's brilliance shines especially in the way it combines what is considered quintessentially American architecture with European Modern elements. 
The house is an Adirondack-style shingled house, built in 1906 in the Catskill Mountains arts colony that was popular during the American Arts and Crafts period. Upgrading this structure into a contemporary residence, the architects could have done "the obvious Adirondack elements--birch logs, antlers on the walls, and Oriental carpets on the floors." Instead, IKB chose to explore other compatible directions. 
I love Swedish Arts and Crafts work, and the objects we chose at once harmonized with and enriched the architecture...[T]he rugs we chose are mostly midcentury, but they were woven on old looms using naturalistic patterns and designs that have characterized handmade carpets for centuries. - John Ike, IKB
The chestnut-paneled dining room features a striped rug by Barbro Nilsson and a 20th century Swedish plank table. (These stunning photographs are by noted interiors photographer William Waldron.)
The interiors represent the shared vision of the architect and the owners, who were actively involved in the selection and purchase of art, furniture, rugs, and accessories. - John Ike
The project is featured in detail in a recently-published book, THE NEW SHINGLED HOUSE (IKB; The Monacelli Press). The book beautifully showcases the enduring qualities and versatility of the shingle style architecture. 
See more examples of Barbro Nilsson designs and other Swedish textiles available at FJ Hakimian Gallery.
-----------------------------
FJ Hakimian is the leading resource for custom, modern, vintage and antique carpets and textiles. Headquartered in New York City, FJ Hakimian connects weavers, textile artists, interior designers and architects throughout the world on a common thread that is the passion for quality hand-woven carpets, mats and textiles. 
Come visit us at  145 East 57th Street 2nd Floor NYC or stay connected via social media: