October 28, 2020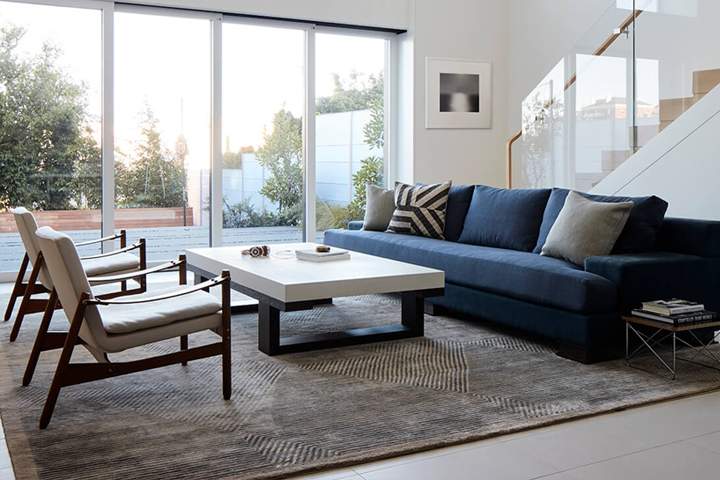 Custom "Boggeri" Carpet. Interior design by Catherine Kwong.
"Space and light and order. Those are the things that men need just as much as they need bread or a place to sleep." –Le Corbusier
One way designers bring aesthetic balance to their interior designs is by including rugs and carpets in geometric patterns. These carpets can ground a design and give an underlying order to an interior space. By using carpets with simple geometric patterns in a room, the designer evokes nature not by imitating it but rather by tapping into its inherent laws through beauty, order, and unity. 
When we think of geometry, the art and science of architecture comes to mind, as does classical Greek art, the Modernism of de Stijl and the Bauhaus, and the principles of Feng Shui and Japanese kanso. What these disciplines and philosophies of art have in common is that they are all based on systems of geometry that find harmonies between humans and their built and designed environments. 
Interior design by Alyssa Kapito. Photography by Eric Piasecki.
Some of the most popular carpets in the FJ Hakimian Collection are new designs in beautiful and subtle geometric patterns, all of which can be customized in color and size to suit the needs of a wide range of design projects. Our Marion carpet is minimal, linear, and precise. It adds subtle balance and harmony and interesting proportions, enhancing an environment by subliminally evoking the sense of a system running in order, be it mental, bodily, or organizational. This carpet offers an experience of a well laid-out and ordered peace. 
Custom "Boggeri" Carpet #26062
Custom "Bow Tie" Carpet #26087
Interior design by The Wiseman Group. Photography by Roger Davies.
Geometric designs, whether lines, arcs, circles, ovals, squares, crescents, triangles, squares, hexagons, chevrons, or more unusual shapes like the irregular polygons in the Bow Tie and Boggeri carpets can give structure to a room design. Additionally, their refined repeating patterns and tactile wool pile have a subtle energizing effect.
Interior design by Wesley Moon. Photography by William Waldron.
Geometric patterns can enliven a space. The zigzags within concentric rectangles of the Kuva carpet maintain a wonderfully balanced composition. This carpet would be wonderful in a room that echoes this geometric shape in other elements—artworks, upholstery fabrics, architectural details—so that subtly repeating shapes can create a cohesive whole.
Custom "Bruhns Jigsaw" Carpet #16054
In addition to geometric patterned carpets, the FJ Hakimian Collection includes carpets that are reminiscent of some of the masters of early 20th century geometric abstraction like Le Corbusier, and Braque. The Bruhns Jigsaw carpet directly quotes the master of modern textile design, Ivan da Silva-Bruhns. This sophisticated, intriguing, and still-fresh design has a wonderful sense of movement and visual interest while its calming neutral palettes offer a firm and grounded spirit.