May 08, 2019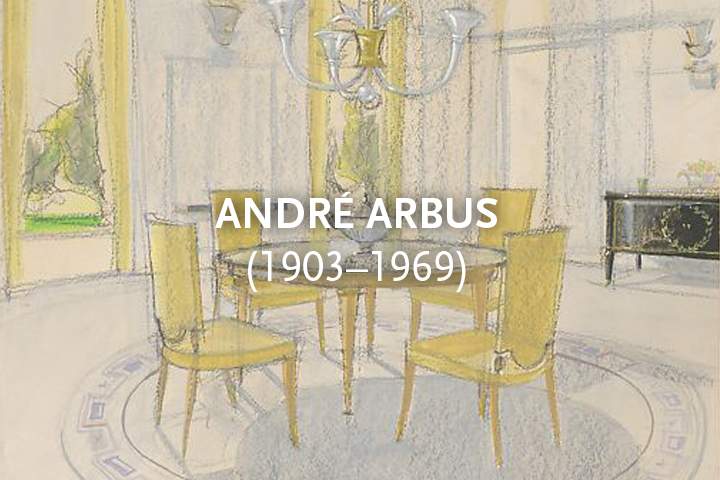 Image: Design for a dining room in 1930's classical style, ca. 1935. André Arbus. Watercolor and gouache over graphite on thick woven paper. The Metropolitan Museum of Art.

This usual and beautiful carpet was designed by the inimitable André Arbus, one of the most celebrated French designers of the twentieth century. His distinctive style blends the tradition of French neoclassicism with the bold modernism of second quarter of the century. In this carpet we see a truly characteristic work: intelligent and luxurious, with a bold, curvilinear design, charming details, and an audacious palette. The design is unquestionably modern, while at the same time deeply informed by the French tradition.  
 
FJ Hakimian Art Deco Savonnerie Carpet #03351. France ca. 1937. 16'0" x 9'2" (488 x 279 cm)
No other designer was able to inhabit so completely both the inherited traditions of French design and its bright future. Arbus was born in 1903 into a family of artisans in Toulouse and grew up helping his father make furniture in the eighteenth-century style. After leaving home to study law, he soon changed course and entered the prestigious School of Fine Art in Toulouse. Upon completion of his studies, he took over his family's furniture-making business, and once he was securely in place, his father retired. It was then that Arbus shifted the focus of the family firm from fine traditional furniture to new and radical designs. He was soon recognized for his work, winning the prestigious Premier Prix Blumenthal in 1932, after which he moved from Toulouse to Paris to open his own gallery on the chic Avenue Matignon. Wealthy clients flocked to the gallery because of his reputation as one of the top furniture makers and designers in France.
André Arbus at the Galerie L'Époque, 1931-1932
Arbus was a prolific creator; he worked as an architect and designed a wide variety of furniture, carpets, and sculpture. It is probably because he was so deeply steeped in the French craft tradition that his designs remain so enduring. The years between the world wars were particularly rich ones in French design—the country had a centuries-old inheritance as the world center of design and was also a hub of the radical modernism of the early twentieth century. 
Rue du Faubourg Saint Honoré, in 1949. Brunhammer, Yvonne. Andre Arbus: Architecte-decorateur des annees 40. Editions Norma, 2003. 227. 

This carpet is a prime example of a great moment in the French decorative arts. Arbus designed it in 1937, and it was produced at the Savonnerie carpet manufactory, the most prestigious in all of Europe with a long history of royal patronage. It is a large, luxurious carpet of dramatic proportions, designed with a central field of rich ivory enclosed by green ribbon-like swags and festoons that create a central large cartouche in an updated neoclassical mode; the field is surrounded by a rich chestnut brown border. It is a design of symmetry and elegance, but also shows the bold simplicity and clean precise lines of the modern design idiom.
Because of pieces like this, both luxurious and rational, as well as others made with fine and rare materials like wood veneers, lacquer, and inlay, his work was seen as emblematic of the glory of France. He was selected by the French government to represent the country in many projects, including the 1939 New York World's Fair and the interior decoration of the French Embassy in Washington D.C. He designed the neoclassical-style furniture for the office of the Secretary General of NATO, which remained in the office for 35 years. He was also commissioned by General de Gaulle to create gifts for foreign heads of state, such as a jewel cabinet for Queen Elizabeth II.  
Chambre de Femme at an Ile-de-France residence in a pavilion set up by the Société des artistes décorateurs at the Exposition des arts et techniques dans la vie moderne, held in Paris in 1937. The room features a day bed in parchment with gilded-bronze crossbars; chairs upholstered with fabric by Robert Bonfils; a writing desk in parchment and shell; brown-lacquer tables; and a carpet by Maison Hamot based on a design by André Arbus. Brunhammer, Yvonne. Andre Arbus: Architecte-decorateur des annees 40. Editions Norma, 2003. 124.