January 22, 2021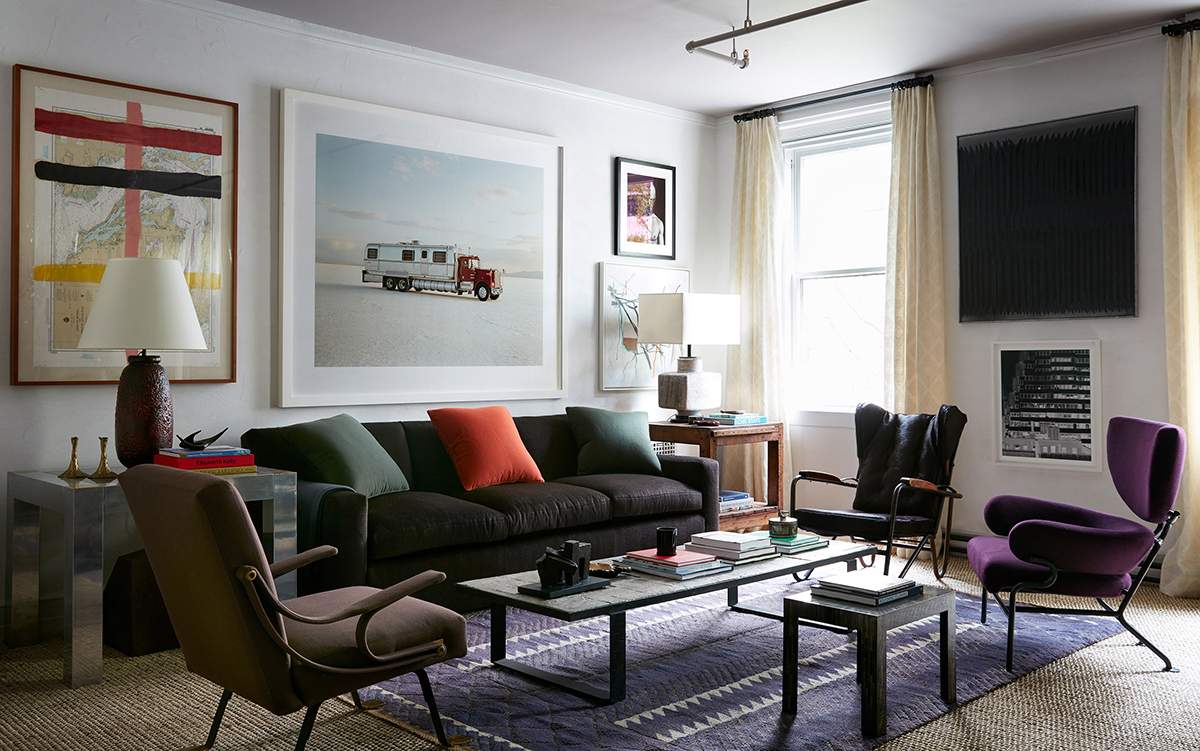 The 2017 Kips Bay Decorator Show House New York. Interior design by Robert Stilin. Photography by Stephen Kent Johnson.
Design
Given its small size, it is extraordinary how monumental Sweden's achievements are in the world of modern design. This small northern nation has had a remarkably consistent output of beautiful and functional design over the last hundred years, and in no other category has this been more true than in the textiles and carpets. In fact, many of the most influential modern trends in carpet design have been introduced by Swedish designers. 
Each vintage carpet or wall hanging in the FJ Hakimian Collection is an expression of the Swedish national design and craft heritage. This country's impressive legacy was shaped by a lineage of artists who unceasingly created, and continue to create, new and innovative works. 
Swedish Wall Hanging/Rug #22180. Sweden ca. 1940. 8'9" x 8'3" (267 x 251 cm)
Swedish Flat Weave Rug #22179. Sweden ca. 1950. 13'3" x 8'2" (404 x 249 cm)
Swedish Pile Rug #03222. Sweden ca. 1954. 6'7" x 5'1" (201 x 155 cm)
History

The history of Swedish carpet weaving can be traced back many centuries, however its recent history begins in the early twentieth century, with a group of innovative artists who linked their desire to preserve Swedish folk craft traditions with modern ideas of democratic design and technology. These pioneers created organizations, schools and workshops that continue into the twenty-first century.
The most important person in the history of modern Swedish carpet design, and in some ways the progenitor of it all, is Märta Måås-Fjetterström (1873—1941). Her rugs are enduring masterpieces of twentieth-century art and appear in museums throughout the world. 
After the death of Märta Måås-Fjetterström, Barbro Nilsson, a textile artist and teacher at the Konstfack, the great national design school in Stockholm, took on the mantle of artistic director at the Märta Måås-Fjetterström workshop. Nilsson, another master in the field of carpet and textile design, continued in creating evolving works that remain mid-century classics. 
The FJ Hakimian Collection includes works by both artists, as well as designs by several generations of their students who form the lineage of Swedish textile designers that continues to this day. This legacy is unique in the history of twentieth-century art and design in that it is almost exclusively female, making it both historically undervalued and ripe for future interest and exploration.


Swedish Rya Wall Hanging #22275. 4'9" x 4'7" (145 x 140 cm)
Swedish Wall Hanging #22169. Sweden ca. 1934. 7'5" x 6'2" (226 x 188 cm)
Craft 

In an interior space, a mid-century Swedish carpet or wall hanging can work as a focal point that pays homage to the particular beauty of modern design. Swedish rugs have many of the most admired qualities of modernism, including: attention to process, experimental form, balance, and timelessness.   
The beauty of these carpets endures because it relies on a solid foundation of craft. Swedish textile designers were highly trained in their specialization. These extraordinary women learned to master both loom and pattern weaving, tapestry techniques, composition, and drawing. They worked to preserve and renew traditions; always aware of their predecessors, while at the same time liberating the ideas of the past in order to create something new.
Swedish Rya Rug #03422. Sweden ca. 1967. 12'4" x 9'11" (376 x 302 cm)
Swedish Pile Rug #03231. Sweden ca. 1940. 10'2" x 6'9" (310 x 206 cm)
Texture

Carpets add wonderful texture to interiors and this is particularly true of Swedish carpets. There are four general types of Swedish carpet: first, the elegant and tidy flatweave or rölakan. This type is probably the most popular and familiar. Swedish flatweaves can have a pared-down quality; without pile to distract from the quality of line, the sophistication of the designs can shine through. 
The second type is the flossa or pile carpet, with the familiar, consistent, all-over pile of traditional carpets that is durable and adds warmth to an interior. 
The third type is the halvflossa or half-pile carpet. This type has a flatwoven base interspersed with tufts of pile. The halvflossa has been popular with Swedish textile designers who have masterfully used the contrast between textures to create a sculptural quality to their designs. 
And finally, the fourth type is the rya carpet. This type is known for its long and luxurious pile, deeper than that of the flossa carpet. Rya rugs were traditionally used as bed coverings during the long, cold Scandinavian winters, but in the twentieth century they became an excellent form for artists exploring the exceptional materiality of Swedish wool. 
Swedish Wall Hanging #22168. Sweden ca. 1940. 7'6" x 4'10" (229 x 147 cm)
Swedish Pile Rug #03373. Sweden ca. 1930. 9'7" x 4'3" (292 x 130 cm)
Swedish Flat Weave Rug #02811. Sweden ca. 1960. 12'1" x 8'11" (368 x 272 cm)
Color
The extraordinary landscape and light of Sweden often seems to be reflected in mid-century  carpet designs. It seems that the bleakness of the long winter has made Swedish designers particularly sensitive to the richness of color. Scandinavian carpets and wall hangings are known for both their austere and restrained palettes, as well as their more exuberant, audacious and bright hues. 
Beautiful blues reflect the ocean and lakes of the north, while a variety of greens seem to evoke the long-awaited springtime. The warmth and depth of summer is felt in the reds and pinks, and mellow autumn can be felt in the refined and earthy yellow and browns. 
The FJ Hakimian Collection includes an extensive assortment of Swedish designs by all the masters of the craft. These exceptional carpets, rugs, and wall hangings suit a variety of interior moods, from sophisticated and austere, to warm and refined.