September 21, 2017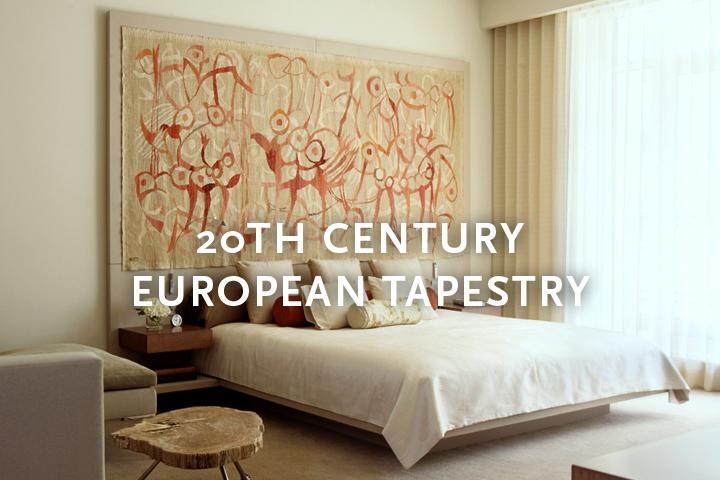 Swedish Wall Hanging "Röda Trolleriet" by AB Märta Måås-Fjetterström, Marin Hemmingsson.
Provenance: Hotel Anglais, Stockholm. Interior design by LSTDesign / Robert Nassar Design. Photograph by Tria Giovan.
The art of European tapestry was revitalized in the early 20th century by the avant-garde. The German Bauhaus was foundational in this renewal, with the ideas and techniques developed there proving deeply influential on later modernist movements. In France, designers incorporated new modalities and aesthetics while also looking back to the country's artistic heritage, including five hundred years of tapestry arts. Artists and designers in Scandinavia created the most innovative and expressive forms in 20th century tapestry weaving—it was in the north that modern tapestry reached its apex.

Gunta Stölzl was perhaps the most influential master of the Bauhaus weaving workshop. Taking over the workshop in 1927, she created Bauhaus fabrics and tapestries using a characteristically rigorous and mathematical approach to weaving[1]. She embraced new materials and experimented with both traditional and industrialized weaving techniques in projects that were influenced, in color and form, by the theories of Paul Klee, Johannes Itten, and Wassily Kandinsky.
French designers created new and elegant works reflecting the forms and ideas of Modernism and Deco while using traditional techniques from the prestigious Manufacture des Gobelins. Cubism and other Modern art movements were major influences in French tapestry design, with major artists such as Léger, Miro, and Giacometti sending designs to tapestry workshops[2].
As in the medieval period, when tapestries covered vast expanses of castle walls, 20th-century French tapestry was also associated with architecture. The new architecture of Modernism favored clean lines without built-in ornamentation. These newly bare walls provided suitable settings for large-scale wall hangings. Le Corbusier, who designed many tapestries, described them as "murals for nomads." [3]  These wall-hangings added movement, color, and dynamism to the austere architecture. Alternatively, the Modernist works were placed in old buildings, where the modern designs contrasted with the classical French architecture and 18th-century ornament in new and interesting juxtapositions.  
French Tapestry "Sonate et Claire de Lune" designed by Jean Lurcat
France, ca. 1940
5'0" x 9'1"
Kips Bay Decorator Show House, New York, 2017 May
Interior design by Nick Olsen
Photograph by Reid Rolls
Artists in Scandinavia, particularly Sweden, took the modern tapestry arts even further than the French and Germans. Here weaving was perhaps the primary artistic mode and mid-century tapestry beautifully expresses the spirit of Scandinavian creativity[4]. These works signal all the optimism of the postwar period. Inspirations could be abstract and theoretical, or drawn from primitive folklore. The ideas behind the forms were equally diverse: science and chemistry, medieval illuminations, exaggerated natural forms, Persian carpets, inspirations from Deco and Cubism. 
Scandinavian designs rejected what was seen as cold and stern industrialism in favor of handmade and luxurious works that were joyful, humorous, focused on materiality and texture. Like a breath of fresh air in the dark north, these wall-hangings had luminous, alluring colors, wonderful movement in kaleidoscopic or billowing forms, and fantastical, abstract, or individualistic designs.
The tapestries were made with extraordinary skill, and reflected the humanism of Scandinavia. After the war there was a "one percent" art policy in Sweden: one percent of all construction costs for new public buildings had to be earmarked for public art, very often in the form of monumental wall hangings. This funding played a crucial role in the extraordinary creative output of the period. Tapestries were also exported to Swedish embassies throughout the world, and further works were commissioned to furnish ambassadors' homes. The idea was to represent the best of Sweden to the world—an open, optimistic, forward-thinking, and humane culture. 
Swedish Wall Hanging "HJÄLTA"
Initialed: AB MMF, BN ( AB Märta Måås Fjetterström, Barbro Nilsson)
Sweden ca. 1950
7'3" x 6'5"
Our Collection #22141
View more Wall Hangings in our collection
[1] Wortmann Weltge, Sigrid. 1998. Bauhaus textiles: women artists and the weaving workshop. London: Thames and Hudson.
[2]  Day, Susan. 2002. Art deco and modernist carpets. San Francisco: Chronicle Books.
[3]  MOOS, S. V. (2009). Le Corbusier elements of a synthesis. Rotterdam, 010 Publ. p. 273.
[4]  https://theswedishrugblog.wordpress.com/
Top Image: Swedish Wall Hanging "Röda Trolleriet"
Initialed: AB MMF, MH (AB Märta Måås-Fjetterström, Marin Hemmingsson)
Sweden ca. 1964
13'0" x 6'6"
Provenance: Hotel Anglais, Stockholm.
Interior design by LSTDesign / Robert Nassar Design
View more: Period Tapestries from late 15th to 19th Century
---
FJ Hakimian is the leading resource for custom, modern, vintage and antique carpets and textiles. Headquartered in New York City, FJ Hakimian connects weavers, textile artists, interior designers and architects throughout the world on a common thread that is the passion for quality hand-woven carpets, mats and textiles. 
Come visit us at  145 East 57th Street 2nd Floor NYC or stay connected via social media:
Follow our company page on LinkedIn for upcoming articles.
Follow us on Pinterest; Instagram; FaceBook; Twitter.
Please contact fjh@fjhakimian.com for any questions.